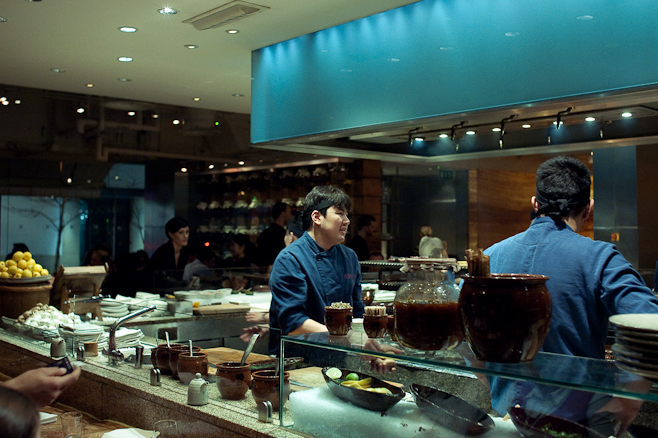 Roka is part of an ever expanding chain of zenith-class restaurants owned by German restaurateur, Rainer Becker. He also happens to own the Zuma line of luxury restaurants. Since he opened Zuma in 2002, and then Roka two years later, his highly acclaimed brand of refined Japanese cuisine has gone strength to strength, now Zuma and Rokas have expanded to Hong Kong, and in 2009, a new Roka in Canary Wharf, right in the heart of fatcatland. I was a little sceptical at first, especially since I had only heard nice things being said about Becker's restaurants, I do love Japanese food (Sushi Hiro is still the best this side of West London, yo), it's just that I had to experience it for myself, before I started swooning with the rest of town. And so I did.
I was told that making a reservation at Roka was not an easily accomplished feat – it is one of the few top-end restaurants in town that is constantly packed night in, night out. Sure enough, we arrived to a chatter filled restaurant for the first dinner service, company was in the form of the enigmatic tweatup crew – five of the strangest creatures known to mankind. We were at the Charlotte Street branch and there are reports that the Canary Wharf branch is equal in output to it's original, so dining at either one is just an arbitrary choice of location. Once inside, I noted how yellow everything was – the hardwood walls, a collab between Japanese interior designers Noriyoshi Muramatsu and Super Potato of Tokyo. Muramatsu himself is a Super Potato alumni and both parties have long track records in crafting high concept restaurant spaces, including an involvement in Blumenthal's Little Chef project. The interiors of the glass encrusted outfit is lit by a melee of low-level spotlights which bounce golden light against the very same wooden walls. I'm sure some panels are backlit as well, giving rise to this feeling that I was dining in a gold mine, or perhaps a copper mine. The atmosphere is quite abit stripped of elegance, more polished chaos but with a clientele that is no less dressy. People speak about the dining room's wow factor, but honestly, I've been in cosier settings, Roka no more comfortable than Wagamama. Much of the intimidation from an open plan space is largely dispelled with the centre piece (and prime gimmick) of Roka : the Robata. The robata is nothing more than a glorified barbie. The 'open flame' allows the chefs to deliver superbly grilled meats with a touch of charcoal.
Speaking of which, the menu is largely organised by the style of cooking (though does not follow strictly) : Sushi & Sashimi harbours it's selection of traditional raw fish fare; Snacks, soups & salads, for all the side dishes; Roka dishes are a selection of their signature stuff and finally the Robata are where you will find the charcoaled infused grilled food. Personally, I think the menu is best experienced with a semi-large table (of five or six) and then by simply ordering a selection from the different sections of the menu, to share. A restaurant such as this will be at it's best when the customer is able to spread himself across the range of dishes, rather than to limit oneself to the tried and test three course meal – yep, ground breaking stuff. Basically, that was the crux of the tweatup dinner.
Starters: Butterfish Carpaccio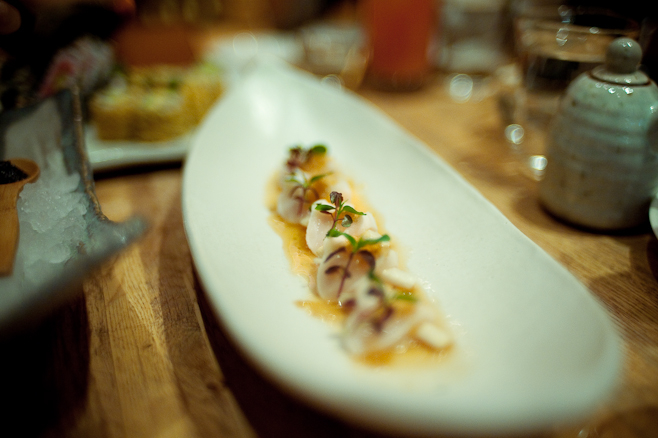 I've had whole grilled butterfish fillets before, but this was the first time I tried it in a more raw format. As the name implies, butterfish is meant to be buttery soft, though I found it to be more chewy soft than otherwise – fatty but not slithery. It is a white fish, did not impart any obvious fishiness and it was different to the melting intensity of otoro, which I would describe as buttery. The sauce laden on top was of a citrus variety, the dish is finished to a very high degree and tastes razor fresh. I've decided I'm not the biggest butterfish fan, I find it has flat flavour, and its texture is a little too papery. This rendition almost changed my mind, almost.
Next up, we give the sushi a go. Tuna with pickled daikon and avocado maki with a spicy breadcrumb crust.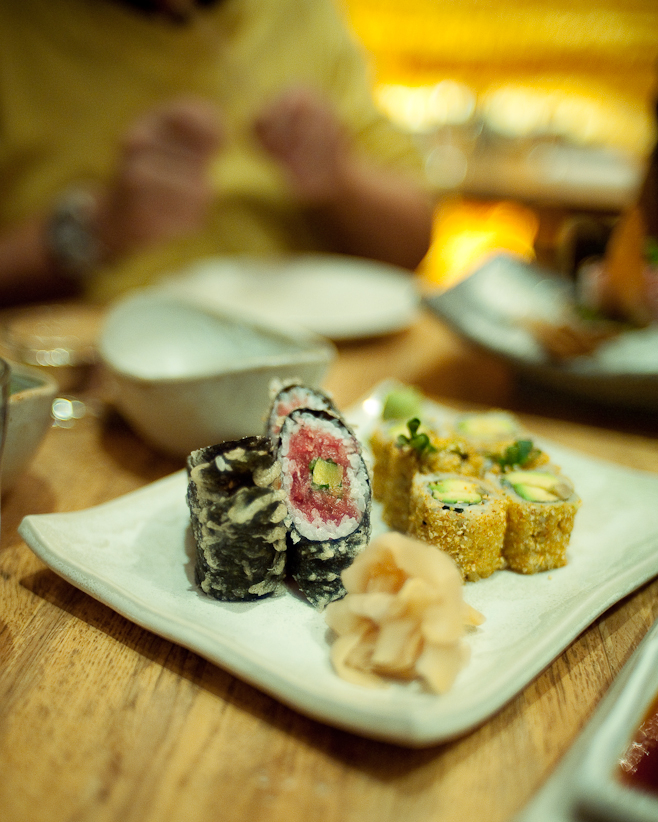 The sushi is neat and tidy, top marks for presentation, and clinically sliced. Let's start with the tuna. The roll is wrapped in what appears to be crispy battered seaweed, and well stuffed with tuna, it tasted of extreme refined elegance. The rice an epitome of balanced umami; crunchy and warm, not too sweet, not too sour, not too mushy and not too glutinous, it was at the crossroads of harmony. Similarly, the avocado maki crusted with a spicy breadcrumb, oozed the same style of slick clinicality. I came to Roka expecting the sushi to be a high standard, as with most of the capital's steeply priced Japanese restaurants, and honestly from Nobu to Zuma, to even Sake no Hana (though standards have slipped), sushi is usually very accomplished. Roka is no different.
Moving on to the last of the raw stuff : Maguro to caviar no tartar, uzara no tamago zoe (or) Tuna tartar, sevruga caviar and quails' egg yolk.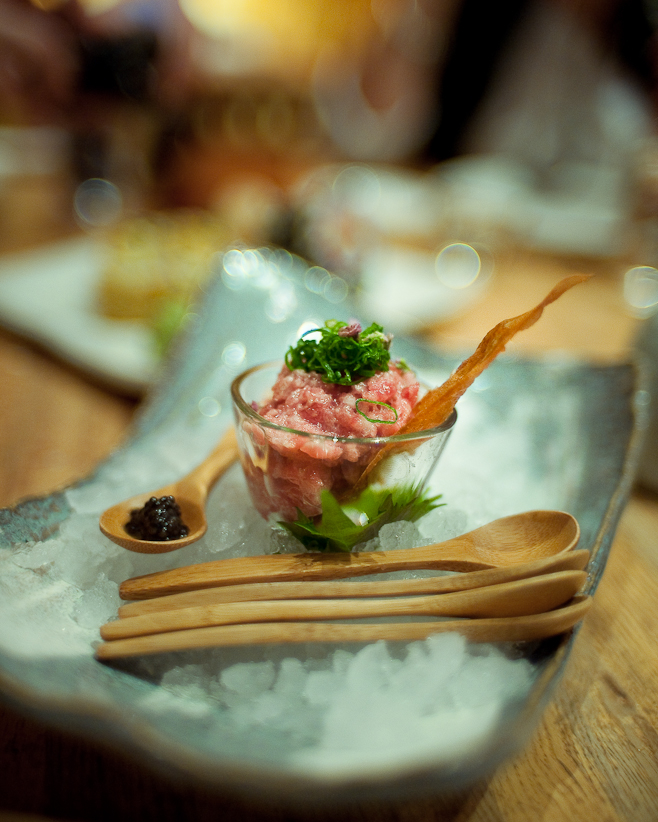 Finely chopped raw tuna, to the point where it is minced fish. I was a little surprised with the colour, instead of a deep ruby red, this was pinkish with speckles of white, leading to speculate that perhaps a chu-toro (half fat tuna belly) had been used. Whatever the case, I loved it. Served in its own shot glass on a bed of ice, a half cracked open quail egg shell joined the glass of tuna. Five wooden baby spoons accompanied the dish, presumably for each of the five creatures of the deep (me inclusive) to ferry a small sample of the prized tartar to our plates. A paltry portion of sevruga caviar, those black pearls, nearly countable completed the dish. So abit of everything mixed together, produced a very consistent flavour indeed. A cold, creamy, slimy melange of yolky fishiness filled the mouth, I was detecting fishy oiliness as well, which leads me to wonder if it was lashings of olive oil, or if this was indeed oil from the belly of a tuna. I loved this, I wish we could have had individual glasses.
We are now surfing in the Roka dishes section, just in case you were wondering. Next is a rice hotpot with mushrooms.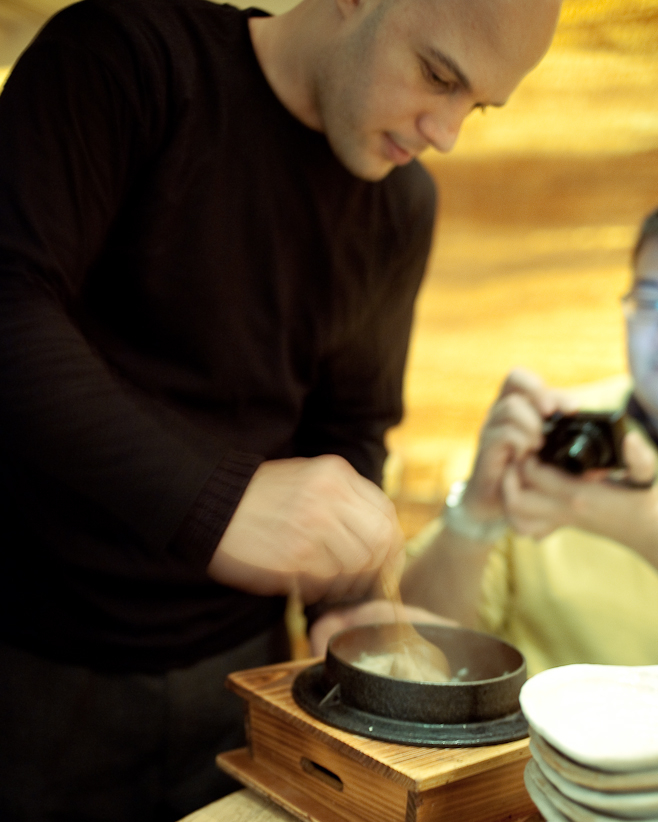 Always nice to see the waiting staff get in on a cameo. Here, the tiny hotpot sizzles and steams, as he gives the rice a theatrical stir before serving the mushy risotto-like rice. Yeah it was ok, rich in mushroom flavours, nothing to complain about as this was hearty and cooked well, but nothing particularly exciting either. Mushroom flavoured, creamed rice. Moving on.
Here's the photogenic one of the bunch : Grilled scallops with ponzu.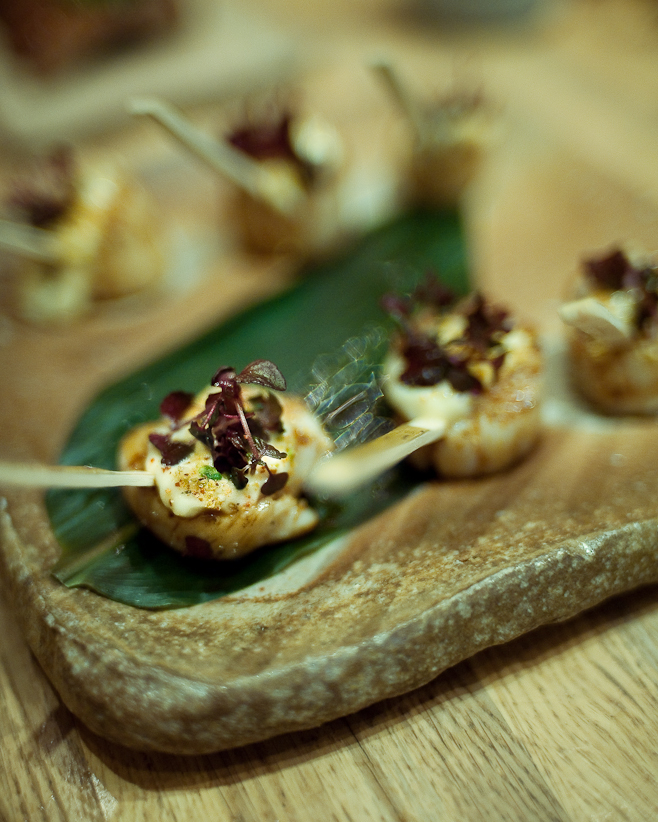 I was expecting to be blown away by yet another exercise of refined elegance, but was a little disappointed with the tepid scallops. They weren't quite a mouthful as I thought, nor did they have a superb undercooked melt in your mouth texture, nor did it gyrate with a heated, charcoaled centre. It was just fairly standard medium sized scallops, seared well enough, but it looked much better than it tasted. Still very good, just not excellent, like the rest of the meal.
We delve further into Roka's Robata menu with a grilled asparagus and a baby back ribs glazed with their 'master' stock.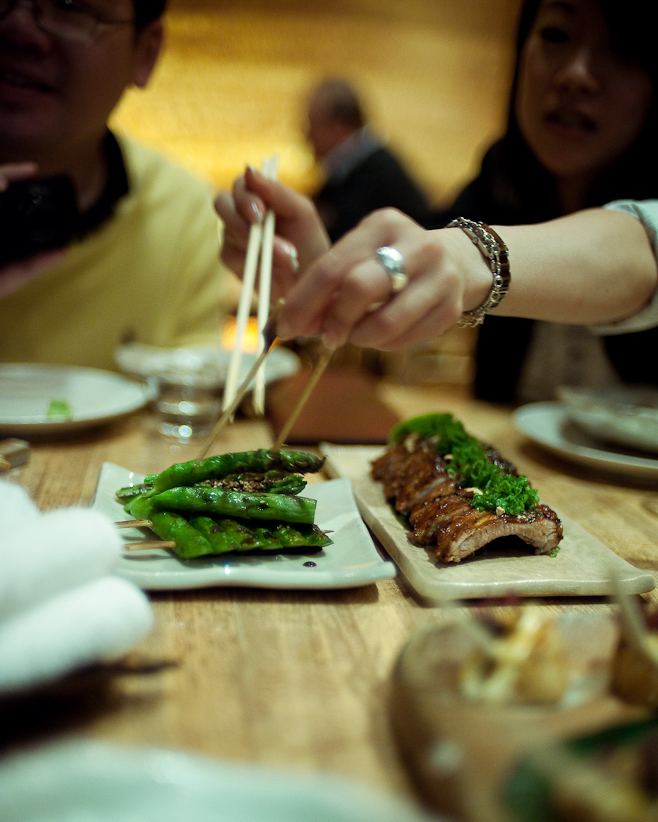 I was beginning to wonder two things : if their robata had been overworked with it's popularity and needs maintenance, or that the cook on service, was a novice with the machine. As open-flame specialists, their openly flamed dishes lacked fire in taste. Charred, smoky flavours were on the subtle side, the grilled asparagus in particular was laughable. Served with pitchforks and laid out like vegetable scaffolding, pretty to look at, but that's about it. Similarly the baby back ribs, while good, was probably no better than say Bodeans, the latter is no fine dining establishment, but the monster portions and slender price package might be the better call than the photogenic, but mostly bland Roka ribs. Style horribly glazed over substance in my opinion.
Finally, the last of the robatas : Smoked duck with candied mandarin, and spiced lamb cutlets.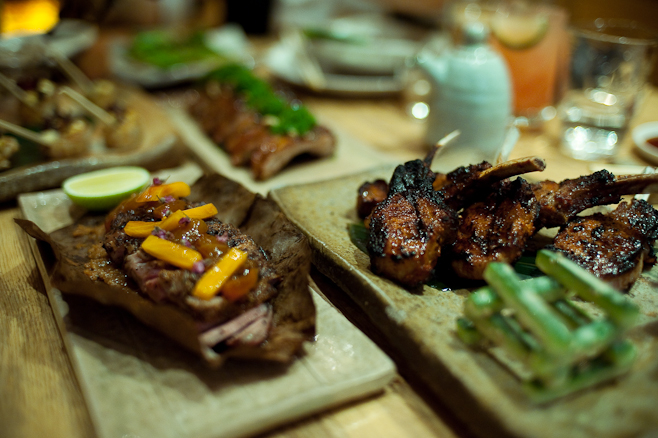 Up to this point, Roka is about a 3.5 out of 5, if I rated restaurants that is. Good, some dishes verging on excellent, but overall falls short a little as I find the robata horribly gimmicky. But then these two dishes landed and it blew me away. Starting with smoked duck with an interesting sharp and sweet mandarin sauce. A fruity contrast with the salty soya sauce. The meat had a dense livery texture, I was also detecting hints of peanut, and this seemingly asian twist on the classic orange and duck combo was startlingly good. It's the texture of the meat, chunky soft, intense. I can only think of one other place where I was positively blown away by grilled lamb chops and that's at Tayyabs. Here, the cook made no errors in delivering the promise of the robata. The lamb cutlets were a godsend. It was juicy, mainting a warm and largely pink centre. The texture was dense, but tore away from the bone very easily. Oh, I felt like such an animal. The spicy hit was spot on, alternating with the smokiness to continually pound your tastebuds to umami heaven. And the heaty, smokey charred centre I was looking for – it was hidden away in these cutlets. This dish alone warrants at least a 4.5 out of 5… but that's in a parallel universe where I give ratings to restaurants. We are still on Earth 616 last I check, no ratings, but I will say that when you eventually make your way out to Roka, do yourself a favour and order this.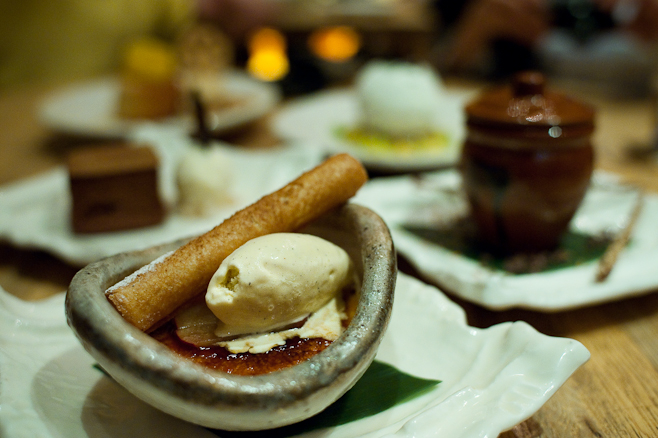 We finished with a raft of desserts, all are good, as one would expect from these establishments, they are inventive, stylish, very sweet and provides a theatrical send off. Myself, I opted for tea flavoured creme brulee which for want of a better expression had smoked flavours mixed with a delicate custard which had a texture close to slow cooked egg. Masterful.
As you can appreciate, Roka comes with a steep price tag. To buy into the Becker's brand of stripped down elegance in the heart of 'media town', you are looking at between £50 to £100 per person, depending on what you order and how much you are willing to share your food. Our meal, including a short carafe of sake came to around £250 for the table – or just about 50 quid each. We were sober enough to avoid any of the wagyu dishes. I was a little cheesed off with the service toward the end, when the waiter chose a grand hissy gesture of wiping our table down to signal that our time was up, when a gentle a verbal reminder would have been more appropriate. If I had not paid my bill yet, I would have most definitely requested my 12.5% reimbursed. It puts a large chip on the largely accomplished service. I am not going to let the lasting impression of highly snobified central London service go so easily – stuffy, regimental service should be abolished outright, we are living in 2010 afterall : Restaurateurs, make note. As we are also living in web 2.0, and possibly web 3.0 soon, I do wonder when people will understand that flash-heavy websites are slow, clunky and dizzy graphics, are just that dizzying. The Roka website is just inoperable and hugely outdated. Again, 2010, not 1999 – do away with the slow moving lava lamp inspired flash animations, you'll get more covers that way. Examples you say? Take a look at Nuno Mendes' recently reconstructed website for his supperclub 'The Loft project'. That's refined elegance right there, powerful, bold and effective. Utterly modern no?
Yes, yes, I'm overly critical and overly wordy with Roka because I actually really love this place. I love the concept of it and I think the food is lip smackingly brilliant. Aside from a few duds on the menu, I think Roka is a prime example of an exceptional highly evolved, highly produced and eerily pretentious restaurant that so epitomises modern metropolitan classiness. It is a tad cheaper than the other stripped down elegant Japanese inspired brand with a gimmicky roasting machine – a wood-fire oven at Nobu Berkeley in place of a robata. If I had to choose, I would choose Roka over and over again. I highly recommend it if you have money to throw around.
Goodbye Nobu.
Other considered accounts of Roka : TimeOut London ; The Catty Life ; A girl has to eat ; Cheese and Biscuits ; Gourmet Chick
The Gist of It
Roka official site £50pp
37 Charlotte Street
W1T 1RR
Tel: 020 7580 6464
Tube : Goodge Street
Did you enjoy reading this post? Why not subscribe to my feed updates for free. Alternatively, You can subscribe via email.