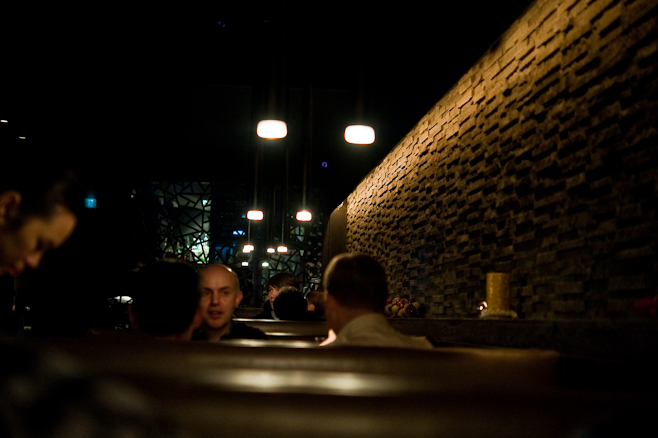 I once held the narrow view that only three types of Chinese restaurants exist in London. Ones that specialized in barbeque meat, others serve dim sum and the rest ripped people off. This perspective is largely unfounded as the diversity of London based Chinese restaurants with specialist regional cuisines are more than far reaching. There is a healthy army of Szechuan inspired eateries, 'hand-pulled' noodle specialists are easily accessible, till recently Taiwanese cuisine has been making its waves and not forgetting the ever popular 'Dai Pai Tong' style café concepts imported from the streets of Hong Kong. Ah yes, the beauty of Chinese food – diversity. Quite separately, there has been a quiet revolution in what I view as a rebranding exercise which new fangled Chinese restaurants are embarking upon in applying abit of gloss to their respective businesses. The highest profile of these self-appointed fine dining establishments being Hakkasan – a Michelin star holder since the early noughties – serving as an inspiration and subsequently igniting a trend that has seen more success recently with Kai also awarded a star in 2009. Hakkasan wasn't the first to do it as much before my time, Lee Ho Fook (which today, is rip off central in Gerard St as far as I am concerned) achieved the eponymous status in 1974. So it seemed that there is a market for seasoning Chinese food with a sprinkling of pretension.
Plum Valley falls into this category of a highly produced concept of refined Chinese food served in surroundings which are so slick, one might slip on it. Ironically, it is located in the centre of China town along Gerard Street as if to publicly signal that a change of guard is due in Chinatown. Everything about this restaurant screams 'I am different' which swaps expensive looking solid black wood for the withering old world charm of its neighbours. It is about as anti-Chinatown as it gets, and we felt it immediately as we stepped through the glass doors, and were amazed with the loss of lighting. I was here to meet with my brother and also an impromptu rendezvous with a couple of foodbloggers.
Service seemed swift and slick at first even though I was a little miffed when our waitress suggested we start with a crispy duck salad – their best seller we were told.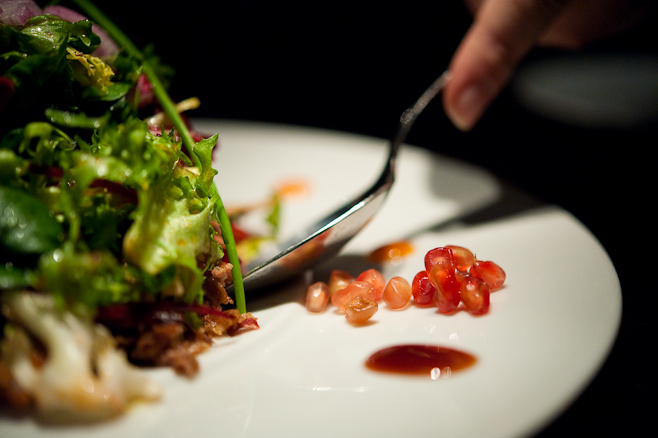 Crispy duck shaved and shredded into a bed of mixed salad leaves with pomegranate seeds alternating hoisin dips tidily arranged around the plate. I was looking for the unique selling point of this dish, as if to try and figure out where the prestige was with this magic trick, especially since this trickery costs a hefty £14. To my dismay, there was none. Granted the duck was crispy, there was little else to suggest that this was Chinese cuisines' finest hour. A ridiculously overpriced bunch of leaves.
Lamb chops in Lemongrass £15.80.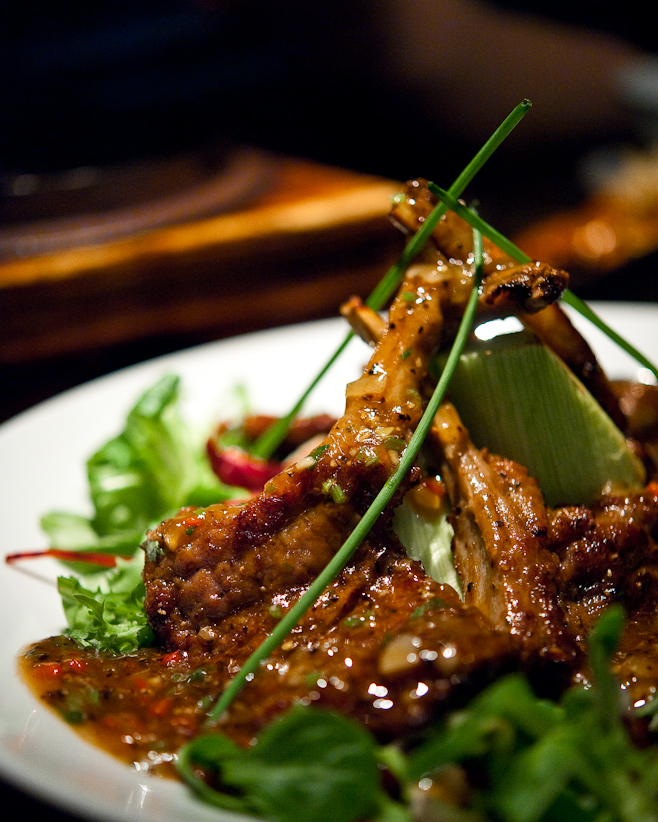 Ah, this looks better – beautifully arranged lambchops made to resemble a sort of culinary structure of some kind with a seared celery base as a foundation. First of all, the intense sauce was wonderful, as I detected strong hits of chilli and coriander. Sadly though, I had also detected salty hits of powdered tenderiser as the meat while soft was very artificial. I don't know, this wasn't high cooking nor was it fresh produce, this was an an above average lamb chops dish which any of the Chinese restaurants in Gerard Street could easily replicate, for half the price.
Next, egg tofu hotpot £10.80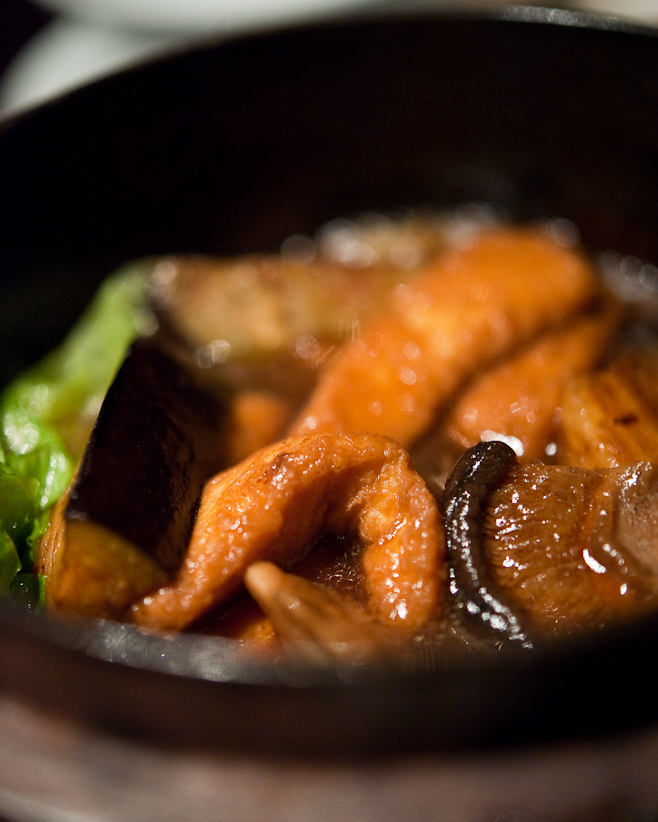 A thick gravy enveloping silky egg tofu with fragrant mushrooms and aubergines – very hearty indeed, but again nothing out of the ordinary, and I've had better versions at Four Seasons.
Sacha seafood hotpot £16.50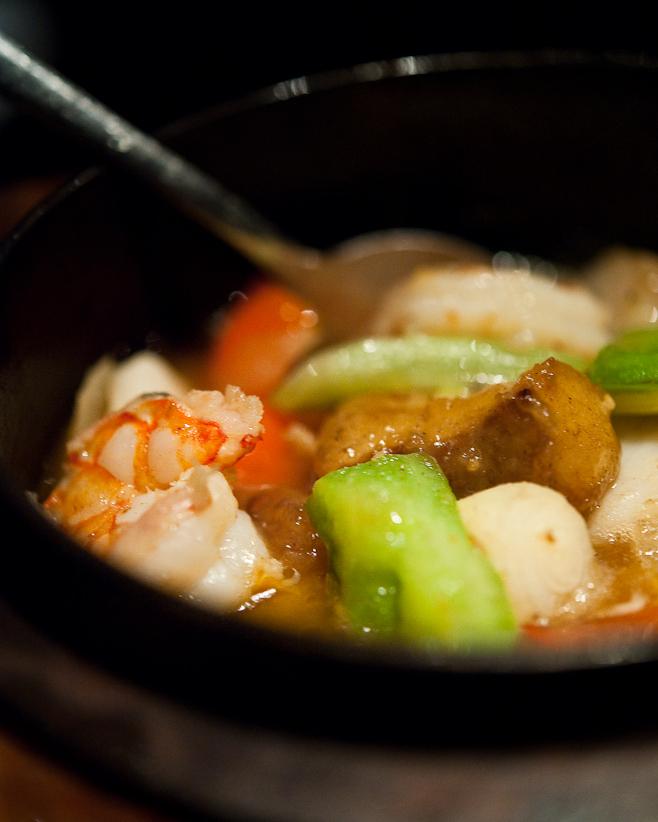 As the saying goes : "Big fish, big vegetables" . Great Chinese restaurants distinguish themselves with a mastery of seafood dishes, particularly a kitchen's ability to churn out properly steamed fish (my choice is grouper). Though on this occasion, we chose the seafood hotpot as a minor acid test . The sauce was slimy, hearty and sizzly however, the rather paltry portions of cod, prawn and squid left me wanting. It was above average, inoffensive but by now I was beginning to see that the dishes followed an unexciting theme.
Finally, the last of the mains : Mongolian fillet of beef £15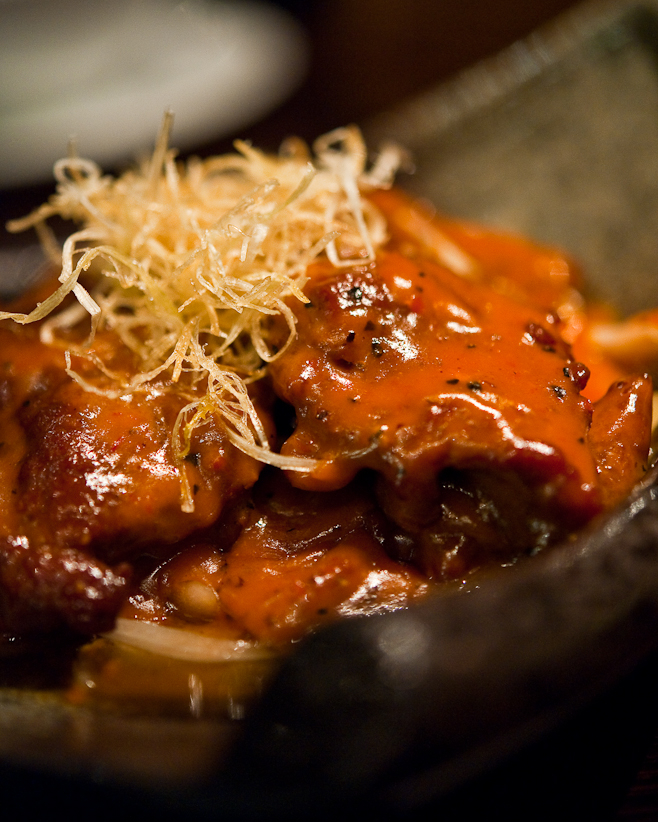 This was the only dish which suggested a spot of brilliance as the seared meat swam in a honey sweet sauce with a unique mocha smokiness infusion. Upon further investigation, we surmised that is perhaps down to the a well seared meat with the charcoal somehow being imparted into the sauce. Liquified smoke.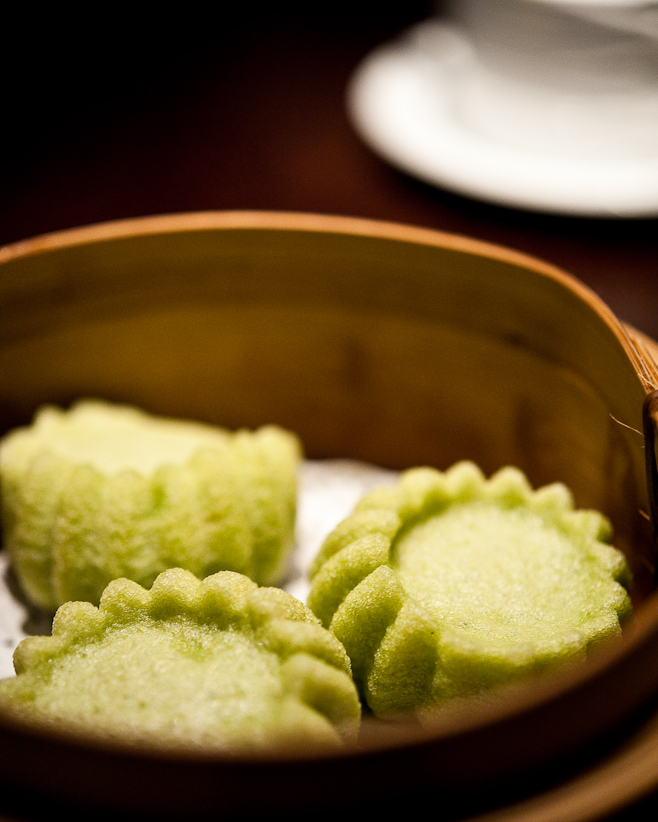 Up to this point, we were still half convinced that Plum Valley might appeal to those looking for a restaurant that boasted ambiance and high class service and could overlook the largely tasty if uninspired Chinese food. But just then, the staff hit the self-destruct button. We ordered three willow dew creams to end our meal, in which the menu describes a sago desert with pomelo and mango but when it got to our table, it turned out to be sago-less. And so we flagged the waitress down to simply ask about the exclusion. Wrong move. The first waitress nervously replied that she did not know and that she had to ask someone else. Fair enough. Fifteen minutes later, no word, we flag another waiter down. This guy also replied nervously but this time insisted that the Willow Dew Cream was meant to be sago-less. We told him to bring the menu around, and pointed out the description regarding the sago. Puzzled, he left us to ask about this with the kitchen. Another ten minutes later, he comes back and informs us that their dim sum department makes the sago, and since this fell out of the jurisdiction of the team which looked after the ala carte menu – his answer was "I don't know, ask the dim sum guy". Third time's a charm then, we flag down another waitress to ask what "the dim sum department" actually meant. This was funny, she seemed fidgety, and it was quite apparent she was nervous, but she suddenly burst out in a very defensive tone – verging on reprimanding us for ordering the desert and then threatening to take the deserts away since we didn't like it. Her body language turned aggressive and it was only until waiter no.2 came over to calm things down. He then explained that the dim sum guys had excluded the sago because their latest batch wasn't 'fresh'. Now I'm no sago expert, but as I understand it, sago can be bought as a readily available flour format in most supermarket, so I was a little miffed at the notion that it wasn't 'fresh'. In any case, it was never about the sago, this was a lesson in miscommunication hell and we merely asked a question which took half an hour to produce an answer and which turned into a sour fiasco.
I did note that they were kind enough to take the willow cream off the final bill… which came to a shocking £111.90 for four. I did not like that they had charged us £7.60 for tea and £8 for rice respectively – something which most 'fine dining' establishments would do, and something which I continue to find troubling. In the end, the bottom line for me has always been about the food; if we give the restaurant the benefit of the doubt regarding the faux pax in service, sadly, I have to conclude that the food at plum valley does not cut the mustard. While food was above average, it was nothing spectacular, comparable to the rest of China town which are on average about half as expensive. Categorically unexciting and I think Plum Valley is a little confused as to what a 'good' restaurant is supposed to be. The gloss is entirely superficial in my opinion, and this pretension is unnecessarily driving up the costs of food, which is largely forgettable. It is a victim of it's own high nose concept.
I will give it that the restaurant has great décor, but so does Leong's Legends. With a front of house that cannot talk to the kitchen and whom are hopelessly giving customers the wrong impression, this operation is stunned at best, and this equates to a very disjointed experience altogether. There is a reason why Four Seasons continues to pull in huge queues in Chinatown and it has nothing to do with décor – it is simply because they serve great food.
More photographs on my flickr account here.
The Gist of It
Plum Valley £40pp
20 Gerrard Street W1D 6JQ
Tel : (020) 7494 4366
Tube: Leicester Square
Did you enjoy reading this post? Why not subscribe to my feed updates for free. Alternatively, You can subscribe via email.