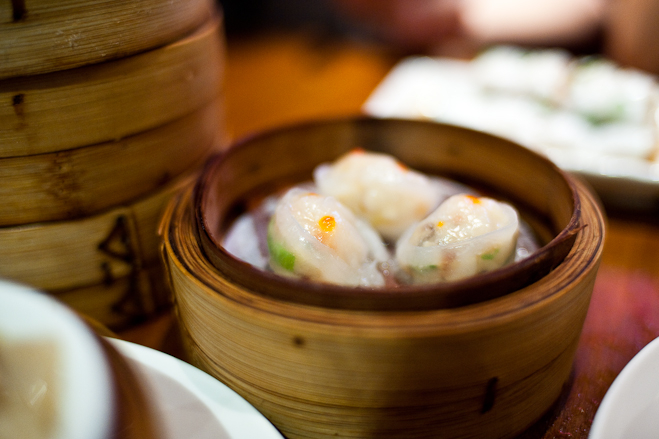 The countdown to Chinese New Year begins now. We are technically now at the tail's end of the Ox year – an insidious one I must say, but in little over three weeks, we will be welcoming the year of the steely Tiger and one which should see us return to prosperity once again. I have been saving up my Chinese restaurant articles and thought it'd be a nice lead-up to the Lunar New Year celebrations. The first day of Chinese New Year will coincide with Valentines this year, and it will last for fifteen days. Depending on who you ask, there are several reasons for the CNY festivities running for as long it is, though as my parents had explained it to me, this period was traditionally the only fifteen days in which people had time off work, technically, there are no more Chinese public holidays during the rest of the year.
Chinese culture is one that believes in not just working hard, but to be able to amass as much wealth as one can. The goal is to be able to pay for your knee replacement without financial aid well after you retire – if you can do that then you've achieved the ultimate dream, Chinese style. I am particularly looking forward to CNY this (next) year because it will the first in eight years I'll be celebrating it with my folks. Yes, all these years galavanting around London restaurants will finally be swapped for some family time. When I think of Dim Sum, I'll always think of my family, and for us, dim sum was every Saturday breakfast, without fail. Dim Sum is Sunday breakfast/brunch, preferably in a big group lots of friends, families and their kids. Of course, one can choose to have dim sum at any day one wishes, but personally, this is something I would only do on a weekend, any other day and it would have lost that special feeling. Sentiments aside, I somehow feel that in London, this tradition is a little lost, though one can still feel this bustling weekend dim sum buzz in Wing Yip (Cricklewood) or Royal China in Bayswater. Being brought up on morning dim sum, I still cannot understand why some restaurants serve it for dinner. It is the equivalent of having a full English for dinner… hmm, which doesn't sound like such a bad idea. I'm saving the rest of this dim sum rant for Friday instead, my drafts are overlapping.
Broadly speaking, I feel that the standard of Dim Sum is pretty good in London, though there is nothing particularly outstanding. I am measuring this against the best experiences I had in Singapore, Hong Kong to Taiwan and even to Sydney – The best dim sum I've ever had was in Hong Kong. My uncle (a.k.a HKEater, 1979, yo yo yo) lives in Hong Kong and he took us to one of his favourite restaurants. Every time I have prawn cheung fun, I would always mentally refer back to that version.. chunky prawns, silky thin yet bouncy rice noodle rolls, sweet soya sauce…ohh… dim sum so good it 'touches your heart'. Over the years, I've tried many dim sum places in town, but not all, I'd like to think that I have tried the best dim sum in town, though in my opinion, the real expert is Helen the WFG, who had recently hung her boots up in foodblogging. So I had heard lots of good things about Yum Cha (not to be confused with Yum Chaa, double a's) ; based in Camden, I visited on a Sunday brunch with my homies: Catty, Charz and Euwen.
Our meal kicked off with the charsiu puffs.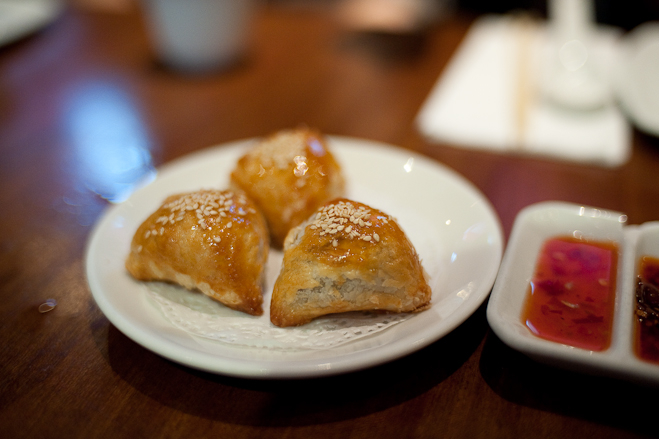 The charsiu puffs form one fifth of the benchmark dishes which help me decide whether to love or hate a dim sum restaurant. The pastry was a little papery but the juicy honey sweet charsiu filling more than made up for any deficiencies.
Next up, the yam puffs.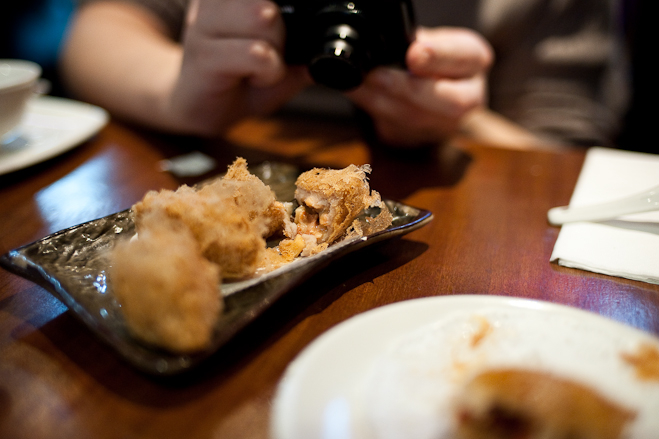 Even better than the charsiu puffs, with a fragile crust and a silky yam centre which exuded a richness.
Xiao long baos.
I have to admit I'm not the biggest fan of xiao long baos purely because they burn my tongue everytime I have them, although this is the same reason why they can be a rush. One is suppose to wet the dumplings with the ginger and vinegar sauce it is served with, and grasp on to the dumpling with chopsticks with one hand, then position a spoon just under it, in case the hot juices go spewing everywhere when you bite into it. An immediately way to gauge the skill of the chef is look the thickness (or thinness I should say) of the wrap. A good xiao long bao should have a wrap thin enough that if you hold the dumpling from the tip, then you should be able to see through the translucent wrap to broth inside. The weight of the fillings should pull the entire dumpling down, it should hang and its shape should change, but then the xiao long baos should be strong enough to deny gravity without breaking apart. Too thick, it's chewy, too thin, everything falls away. An example is this photo I found on flickr. Anyway, I did the hang test on the Yum Cha dumplings and I thought they were ok, just a tad thick, but overall the standard is pretty high. As for the broth & minced meat inside – very good, very mineral and then with a sort of porky hit. I burned my tongue again – a good sign. Although, I noted that these were nothing like the xiao long baos I sampled in Taiwan, it does not even come close to Ding Tai Fung.
You know one of the best things about dim sum is that half way through your meal, bamboo steamers start stacking up and then it's like wow – I feel like a king. Here we sample tripe, the crystal scallop and prawn dumpling, carrot cake, har gaws and siu mai.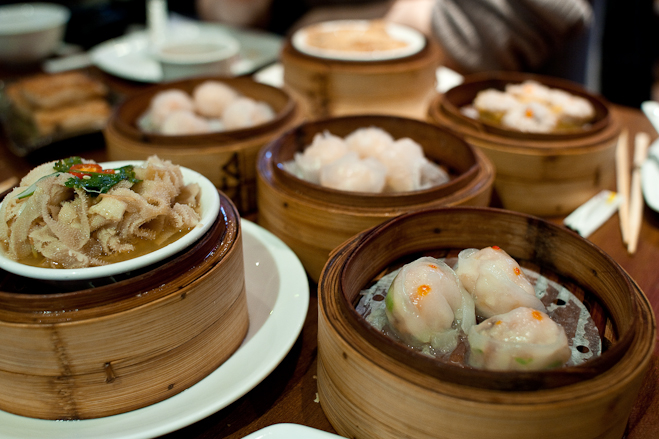 Another two benchmark dishes: the har gaw and siu mai, I am happy to report that both are agreeable. The har gaw was prawny and oily – good, while the siu mai tasted very meatbally, above average. On the other hand, the crystal scallop and prawn dumplings had rich seafood flavours and were brilliant. The slippery pan-fried turnip cakes were simply a joy to eat, it carried the signature charred starchy saltiness which makes this dish so interesting.
Next : The cheung funs.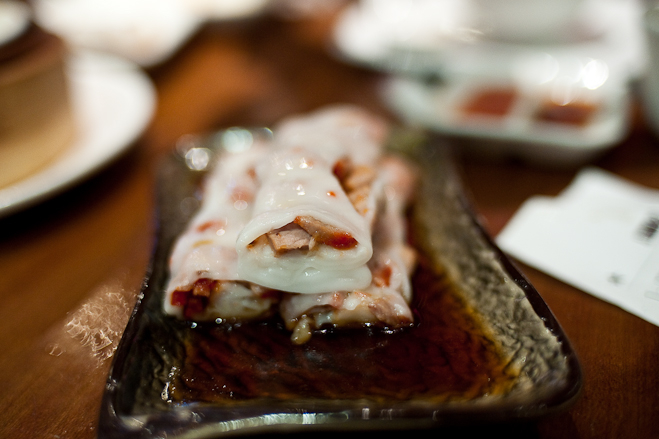 I tried all the variations here and the best one of the lot are the cheung fun filled with char siu. Thick & tender charsiu, impossibly fragrant, it was heavenly – the best charsiu cheung fun in London I've yet tried. The prawn cheung fun was pretty good as well and I was pleasantly surprised with the crustiness of the Youtiaw filled version. Cheung fun is one of my benchmark dishes and I thought the noodle wrap was very well done. Smooth, a good thickness and a lively bounce, with the soya sauce that carried just a subtle tinge of sweetness.
Glutinous rice with chicken, or 'Lo mai gai'.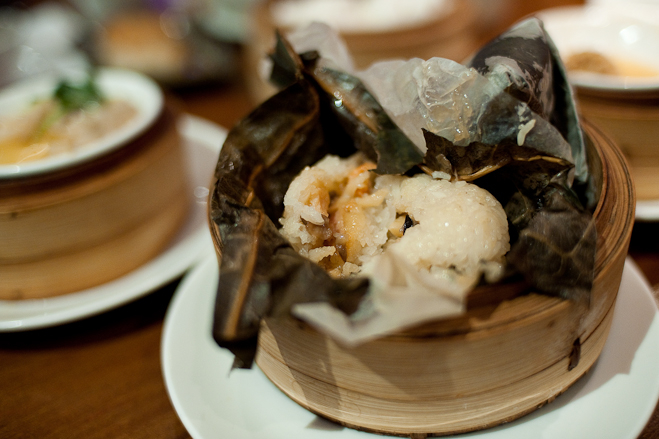 Avoid this – this is bland.
Steering away from the steaming and puffy, we gave the squid a try.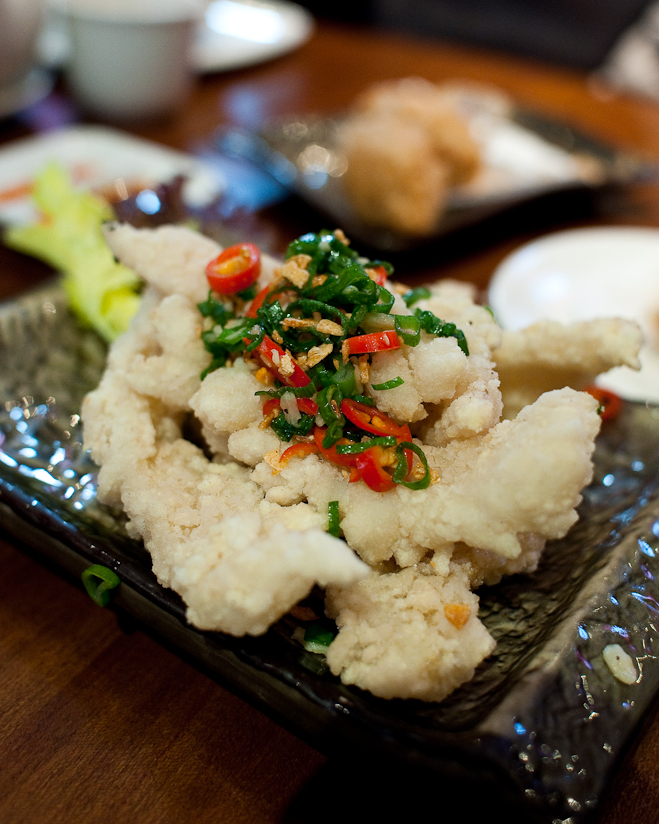 Thick and mostly juicy with an able batter, it was let down abit with a blandness. The last of the benchmark dishes (if you are counting) are the charzsiu baos. I found that it had the standard fluffy fragrance, but not enough of it for me to give it my gluttonous stamp of approval, in fact it wasn't even enough to motivate me to photograph it.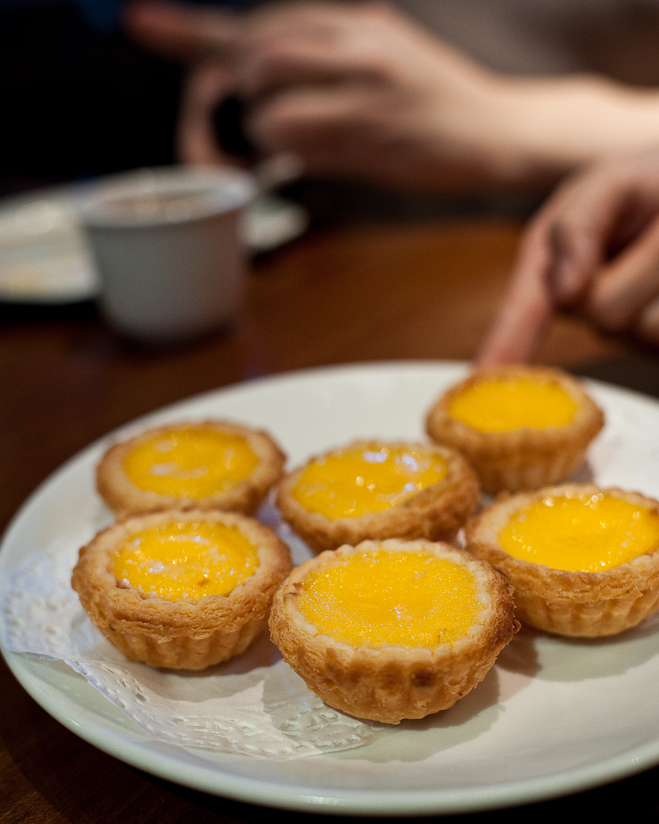 Finally, we ended with some egg tarts. They were served piping hot (I burnt my tongue again) , the crust was just a tad crusty in the place of a consistent density, but the egg custard itself was divine. Eggy and milky and probably rivals the Pearl Liang version, which I think is also excellent.
They got four out of my five benchmark dishes right and on the whole, I think Yum Cha is pretty good. Their xiao long baos, egg tarts and char siu cheung fun in particular stack up very well against the competition in town. I made a return visit a few weeks later to take the missus there, and the second visit pretty much aligned with the first. I lost the receipt from both visits although I can tell you that the price is comparable to their peers. If memory serves, they run regular discounts (25% off the bill) during the weekdays, making it even more of a compelling proposition to give this place a try. As a rule of thumb, there are few restaurants which get both their dim sum and dinner menu right and I don't think Yum Cha is any exception. I would only recommend you try dim sum at Yum Cha and just ignore the rest of the ala carte. In that regard, it gets one and a half thumbs up from me, but with a warning because I don't think everything on the menu is top drawer, though the positives far outweigh the negatives.
More photographs on my flickr account here.
Other considered accounts : Charmaine Mok for Timeout London ; Catty of The Catty Life ; Helen the World Foodie Guide ; The Wild Boar of Pigs Pigs Corner ; London Chow
The Gist of It
Yum Cha official site £20pp
36 Chalk Farm Rd
Camden, NW1 8
Tel: 0207482222
Tube: Chalk Farm
Did you enjoy reading this post? Why not subscribe to my feed updates for free. Alternatively, You can subscribe via email.