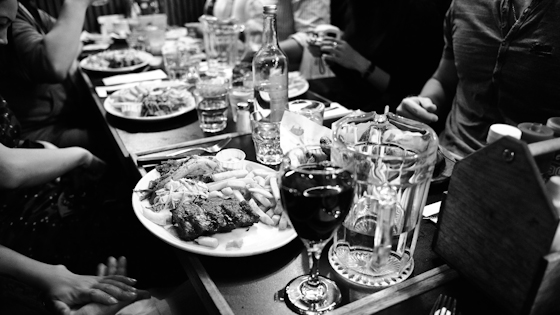 The tweatup team comprises of six bottomless appetites and it took fate (and twitter) to bring together this hungry pack, whose ultimate goal is to eat our way to economic growth. The pack is led by the enigmatic Tehbus and his second in command Mr FbM, a shadowy secret agent who splits his gastro assignments between America and London. The team's uber-assasins are three women, namely supercharz, foodieguide and Cattylicious. And I'd like to think of myself as…the waterboy.
The latest conquest is Bodeans, and this is the paper movie*.
(*The events depicted are based on a true story.)
After seeing District 9, I'm feeling a little obsessed with the ultra-realistic mockumentary film making style which was so successfully employed. I also managed a weekend sitting of Speilberg's Schindler's List which also employed another form of documentary narrative. Of course war and aliens have nothing to do with Bodeans, which is purportedly London's original smoke house. Call me naive, I love good PR pitches, especially the ones with a human face attached to it. The Bodeans story starts with Andre Blais's dream to bring Kansas City smoke & soul to London's drench & grim. Since their launch in 2002, they have expanded to five locations around town, ensuring their barbeque racks and frosty beers are as authentic as watching Dwyane Wade lead Marquette into the final four. This bbq joint does have an American b-movie feel; darkly lit wooden décor, highlight reels playing on the flatscreens dotted around the basement space, oh and there's those flickering neon signs too. All that was missing, was me rocking up in my trucker cap. Dang it, why didn't I photograph the ambiance?
This tweatup coincided with Catty's birthday – who's electrifying energy will quickly grow on you (try her blog, you'll love it). We brought our other halves as well as our imaginary concubines (Cheryl Cole was sitting on my lap, he says) to dinner. I sat across the table from Catty's beau (whose name I will not say) who is a great bloke and it was quite hilarious trying to convince this twitter sceptic that we food bloggers were not made up virtual people. He bought Catty Jimmy Whoos for her special day. What a dude.
Dang it where's the BBQ burnt ends? Only on Mondays and Wednesdays we were told so instead we plonked for the other signature dish on the menu, pulled pork and baby ribs £14.95.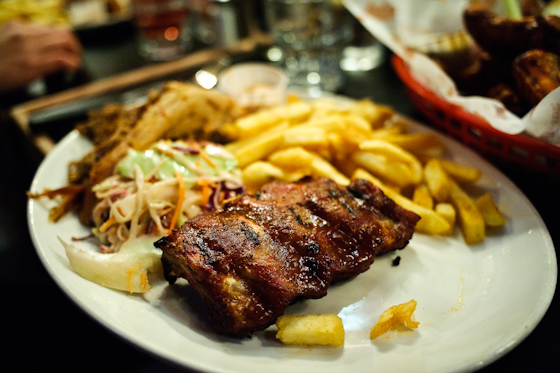 The baby back ribs were quite nice, honeyed, smokey and juicy. Not the best ribs to grace London, but pretty good. On the other hand, the pulled pork was abit of a downer, it was mostly dry and chewy.
The other half of the table including myself went for the Bodean special – Jacob Ladder beef ribs.
And so the meatfest begins! I was a little surprised at how big the portions were, I had the half, and I was struggling to finish it. The hopelessly burnt exterior does not tell the story of these short ribs, as the insides were gloriously meaty with wadges of melting fat threatening to fall off the bone, alot of proper carnivorously sturdy flavour going on. I eyeballed about an inch thick of meat, while abit of chewiness was to be expected, it was mostly tender.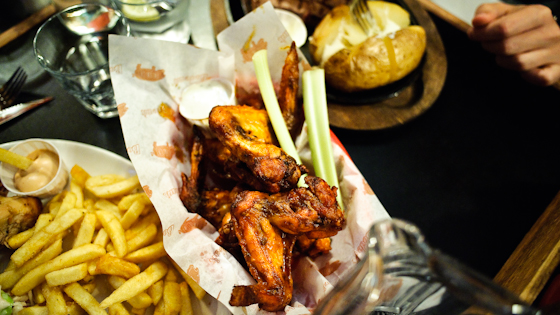 I really enjoyed the Jack Ladder ribs, it was everything you'd expect from the meatfest. Also very good was the clam chowder (£3.95) , a creamy potato soup base with bits of bacon to season, served with a couple of slices of buttered garlic bread.
We also naively ordered half a dozen greasy buffalo wings (£4.95) which we embarassingly failed to devour. So much for them bottomless appetites.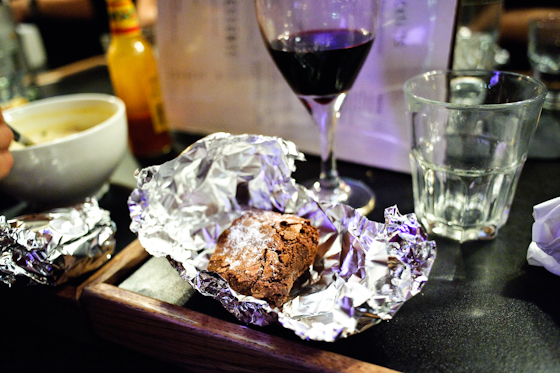 Pudding came in the form of aluminium foiled brownies, which Catty made for us. Its delish, I was going to save it for breakfast the next day, but I wolfed it down after trying a few crumbs. Thanks Catty. I must be one of the last Londoners to try Bodeans, so this non-review is just a formality really, if you've not been yet (or are a vegetarian wondering what the fuss with meat is about) then give Bodeans a try. Just make sure you don't over order.
As for the tweatup team, well the search for more feasts continue. Our next conquests include a Lobster feasting (which has already taken place at the time of writing) , a Burger/Sarsaparilla extravaganza will follow in sometime October and then – tentatively – we're all going to have an epic puff-off before the year ends.
What exactly a puff-off is, well you'll just have to watch this space, curryhead.
The Gist of It
Bodeans Soho official site
£20pp
10 Poland Street W1F 8PZ
Tel: 020 7287 7575
Closest Tube: Picadilly Circus
Like this blog? Why not subscribe to the email newsletter ; alternatively you can subcribe to the RSS feed.