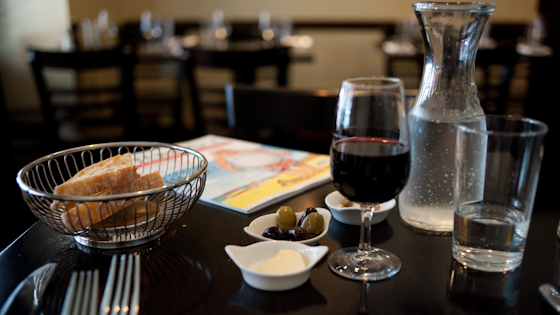 I will never be able to afford the Martin 0M-28. The solid mahogany, the musky rosewood and that resonant, clear and crisp ring, I was John Mayer possessed strumming along to 'No such thing', now eternally burned into my memory from years of fandom. Achingly, I have to put down the guitar in the shop on Denmark Street and head out to lunch across the road at Giaconda instead, and sit there to dream about legendary guitars seemingly tempting me to empty my wallets. But in recessionary times, I've only got enough for a Blueridge, not quite a Martin or a Taylor and definitely not a Cherry Sunburst Les Paul.
Gravity.
The street in question is a detour from charing cross road, a limboland which is quite literally at the crossroad of the surrounding clichés of oxford street and Leicester square against the contrast of the urban circus that is Soho. Aside from some great independent bookstores, and atmospheric (dusty) guitar shops; Denmark street is also home to an unassuming dining room which has such a black exterior that one could easily mistake Giaconda for another crazy cool guitar shop. Something about low profile joints attracts me. Maybe it's because the ambiance is firmly rooted in reality; perhaps its could be the romantic underdog status what with it being a million miles away from the grandeur of multi stakeholder Michelin joints employing far too many hands who may perfect the broth, but spoil the mood. Apollo was a beast, but Balboa had heart, and you can pound and pound and pound and its heartbreaking to watch, but god it's beautiful. By their own proclaimation "We aren't flashy or grand – and that suits us just fine! " and yes, it suits me perfectly as well.
Give me Dinings. Give me Baracco. Give me Mandalay. I would gladly choose them over the harsh lights shining on pristine cream walls. Giaconda is one that beats with soul, the room is so small, your neighbours are practically breathing down your neck, and the simple wooden tables are only just adequate, but that's why I love it.
I don't need no doctor.
A fantasy. I've been wanting to fire off the champagne supernova riff on a custom Les Paul with a delay postbox hoping to emulate those great vintage shots of Noel in a oversized raincoat and his union jack Epiphone. Special people never change dude.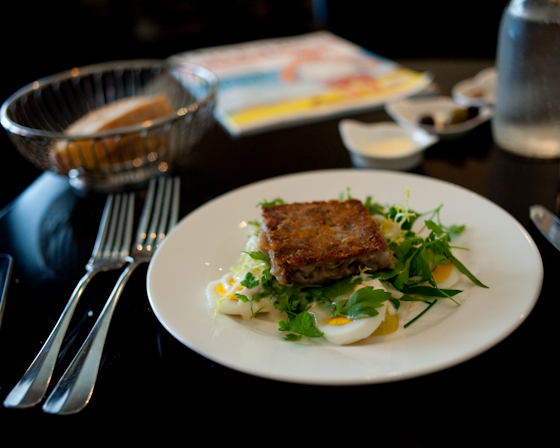 Dish Uno is Boneless (almost!) & Crisped Pigs Trotters; Eggs Mayonnaise (£7.00). The starters menu largely feature pretention free titles such as Roast Mushrooms with Garlic Puree; Herbs & Butter or Baked Eggs with Spinach, Cream & Cheese and the prices are equally laidback.
How many of you are wine junkies who watch the Daily Thunder show? If you know the show (you vayniac you) and if you're like me, you watch Gary Vaynerchuck's (who is a god) first reactions when he is reviewing wine; when he comes across something that might potentially be amazing, as soon as the wine hits his tongue, he goes silent. And Gary V is like full of energy you know like a motor that never stops and his charisma carries the show, but when a wine hits his sweetspot, he goes silent, says nothing for about half a minute and all he does is crack this smile, no in fact, he's not even trying to because the man is holding back, sometimes even making a fist and putting it over his mouth as if to figuratively contain and collect all his essence before releasing his emotions. And that calm before the storm, is kinda what I felt when I ate this: (fist over mouth) it was amazing. The crispy crust is like a thin roof barely sheltering what is the creamiest and (almost!) boneless blobs of buttery meat & fat, with full marbling flavours, the subtle complexity is a rustic dish executed in style. Layered on top of a simple egg, green and new potato medley with just the a tinge of zing in the dressing, it was elegantly simple, and a joy to eat.
Signe.
I ordered a glass of red: the Abruzzo to be exact. £3.75 for a short glass, it carried bittersweet chocolate flavours, and a purity akin to say brown sugar; the easy drinking wine was surprisingly smooth and it fitted in with the Giaconda theme. The mains are an equally breezy read, in addition to grilled meat/fish of the day (served with chips & salad), they also feature exotic cuts and offal offerings such as poached ox tongue, braised tripe with smoked paprika and sautéed veal kidneys. I initially opted for the eye catching Vitello Tonnato; Radicchio, Potato & Egg Salad (Cold Poached Veal with Tuna Sauce) but the waitress urged me to try the £10.75 Crumbed Ham Hock Hash; Fried Egg & Green Salad, and so I happily obliged.
This thing was sizzling and the fried egg looked ethereal. I split the fried cake down the middle and I was smiling with the yolk oozing down with the aromas gushing out from the middle – wholesome.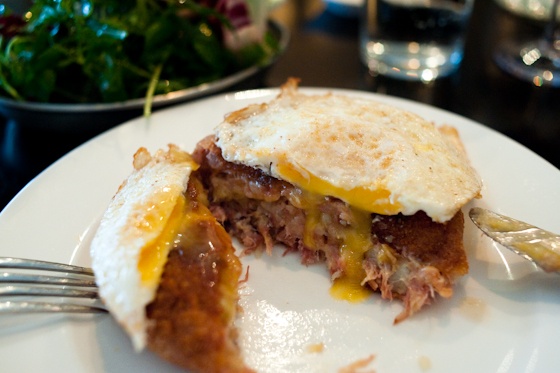 I kept getting the feeling like I was eating a really good breakfast, the rocky breadcrumbs blending nicely with the salty ham floss which was mixed in with pieces of potates. Smokey lingering flavours and because it was quite ham-ey, I asked for more bread to dilute the flavours a little. For £10.75, it's a great dish, again very elegant and I think the potato pieces made this dish.
Remembering Les Paul.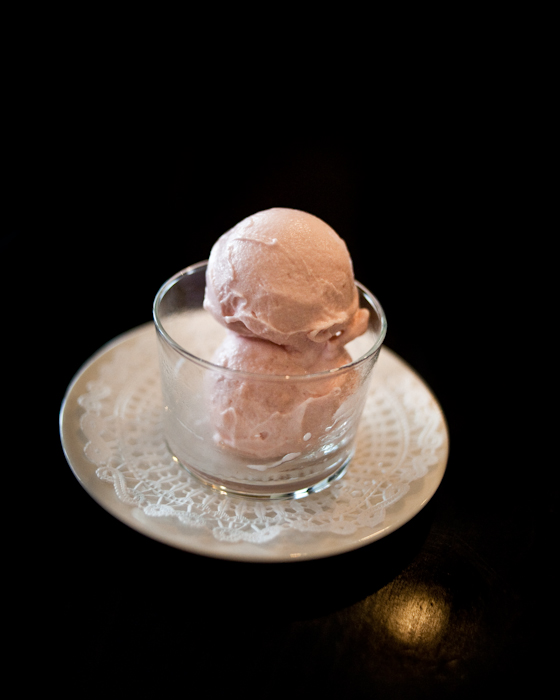 My meal culminated with a forgettable peach ice cream (£4) but quite a smooth frothy flat white (£2.50) ; the jug of water – sparkling – was free, so were the bread & olives but I suppose it's inclusive in the cover charge (£1) and I was amazed that the bill came sans service. This meal came to exactly to £29.00, I paid by card but had no notes on me. I felt obliged to scramble all the coins I had in an effort to show my gratitude for the warm service. Did I mention that on my visit, the dining room was overseen by only one very friendly waitress. This lunch was merely a slither of a preview that is Giaconda, having only sampled three different dishes as opposed to the usual five or six when I am out with my very special partner in crime, we'll need to return for more, and I am sure that we will in the near future.
It's been a while since I last chose to dine alone; the privateness of this tiny room really harked back to the very first days of LondonEater, the days when people would laugh off my romantic idea of writing up essays regarding the nuances of lonely dinner adventures of savouring the moment, soaking in ambiance and rediscovering what it meant to love food.
Lester William Polsfuss 15th June 15th 1915 – 13th August 2009
The Gist of It
Giaconda Dining Room official site
9 Denmark Street WC2 H8LS 0207 240 3334.
£6 Starters £13 Mains £5 desserts
Verdict: Affordable, classique, chic and great tasting food… surrounded by great guitar shops too. Twang.
Like this blog? Why not subscribe to the email newsletter ; alternatively you can subcribe to the RSS feed.