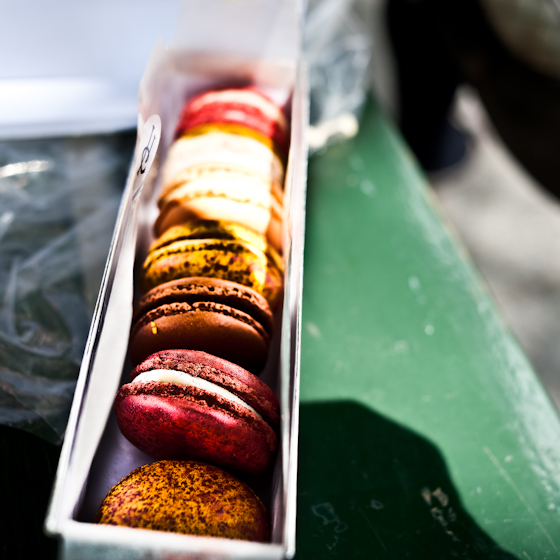 The high adventures of 'ParisEater' continues. And now, we go to the shrine of macarons (and other such sweet delights) at the Pierre Herme boutique in St Germain.
I have never really paid much heed to the technical artistry that is the perfect macaron, that isn't to say that I don't enjoy the painstaking creation, its just that I haven't come across any ambassadors of this supposed fine art, until now that is.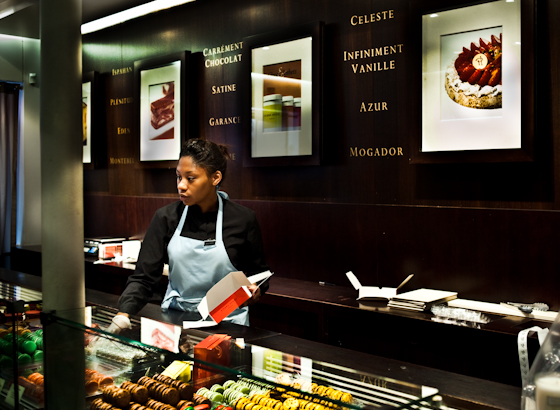 I have the eloquent SuperCharz to thank for this tip, otherwise, the only other big macaron name I know of, is Laduree; who incidentally, have their shops just a few steps away from the 'jewellery' boutique. We're along Rue Boneparte in the general St Germain area. Mark told me to brace myself for long queues with Japanese tourists, and sure enough, there was a queue, which meandered out to the shop front and overspilling from relatively tiny boutique.
The short queue moved ever so slowly, and as I inched closer and closer to the front door, I saw satisfied faces exiting with see-through bags and shiny boxes. Actually, they were more like 'Hah, in your face sunshine, I've got a box of goodies and you don't' faces, as if they'd won the lottery, or had just became one of the first few to snag an iPhone or a PS3. Oh the fanfare is rousing, and I was so excited.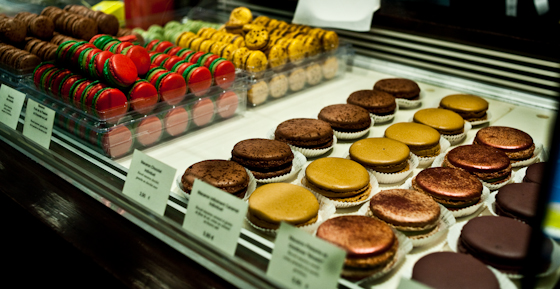 Finally passing through the doors, I was within touching distance of the edible gems; if not for the glass display it was under, the anticipation from the queue would have compelled me to simply throw myself across the bed of sweet things and cackle madly. Naturally these jewels are not cheap; 1.85 euros for a single macaron and 3.80 euros for the bigger ones. I bought a couple of loose ones and I also picked up a box of seven which contained the 'summer' flavours, so I'm told by the shop assistant. 17.50 euros for a box of seven: the 'Les Macarons D'Ete'.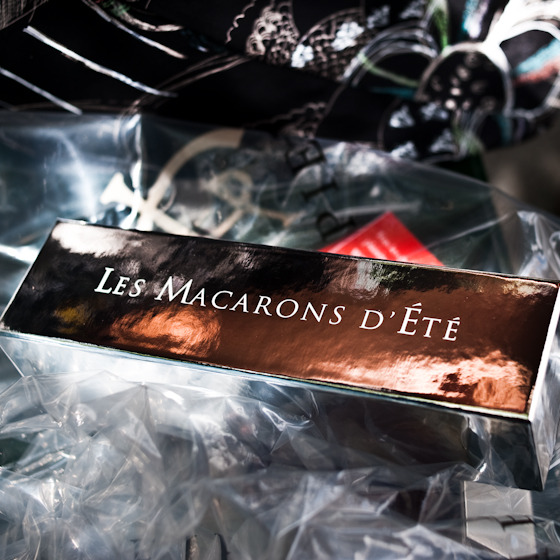 So this is the summer box. Faultless presentation, the box is so shiny, you can actually see the distorted reflection of my arm in it. Years ago when he began, Pierre Herme actually opened his first boutiques in Tokyo, before coming back to his motherland to satisfy French sweet teeth. I settled on a bench outside the nearby St Sulpice church to break open the box.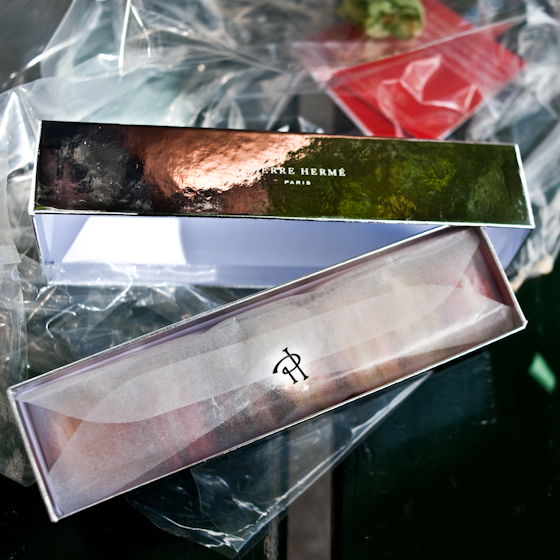 I actually wanted to save this until I got back to England, but I took a bite out of the loose macarons I bought, and I was blown to smithereens. It was Huile D'olive & Vanille and it was gobsmacking. The spongy exterior had only a very slight crunch, the texture akin to mildly toasted bread and the flavour was amazingly fragrant. An understated vanilla custard that quietly exploded on my tongue. It was out of this world, it was not too sugary, but in its place was sweet flavours.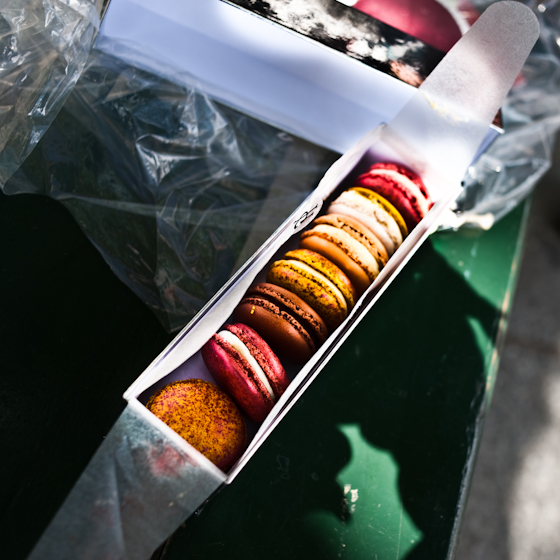 The mind boggles with the kind of variety which has been distilled into this selection of macarons. The simple Carrement Chocolat was simply divine, the Satine was a tangy cream cheese and orange compote that gelled to make a sour jam; the Celeste was a passionately fruity rhubarb but the one that left a real impression was the pink glitter dusted Ispahan which was a mellow rose scented delight that envelop a raspberry jewel in its centre.
Oh yes, I ate it all on the spot, it was so good, so complex that it forced me to take time to really savour and enjoy every single bite, it really was magnificent. The sour, sweet, jammy and custardy were lingering on the tongue; if jewels were edible, they would indeed, be Pierre Herme macarons. I thoroughly enjoyed what was a masterclass of fine saccharine arts.
Pierre: please come to London, you will make ridiculous amounts of money, from me and from the rest of the city.
Like this blog? Why not subscribe to the email newsletter ; alternatively you can subcribe to the RSS feed.