I've been looking at Parisian Foodblogs for places to eat since I'm going to be there this weekend, and kept longing a summary or list of the best restaurants/bistros/cafes to try; suddenly lists are such useful things. It's given me motivation to do an update to my all time favourites list. Anyway, if you're coming to visit London or just feeling peckish then here are ten personal favourites; a mix of cheap/expensive eateries suitable for all kinds of appetites…
1. St John (British) £40pp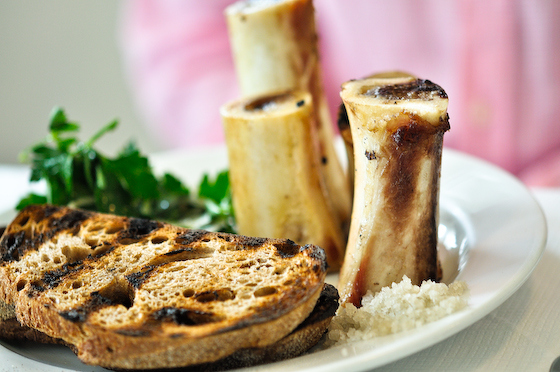 Even though it has a michelin star, the prices have stayed surprisingly decent. Chef Fergus Henderson pioneers 'nose to tail' cooking so you'll see alot of offals and lesser known cuts of meat on the menu. Its not a perfect restaurant and they are not into the latest in the wide world of molecular gastronomy. Instead what you'll find is really good, really hearty Great British cooking. If Great British Cuisine is what you are after, this institution is a great ambassador. The bone marrow is to die for. Expect to spend £40 for three courses. Closest Tube Station is Farringdon.
2. Cambio De Tercio (Modern Spanish) £45pp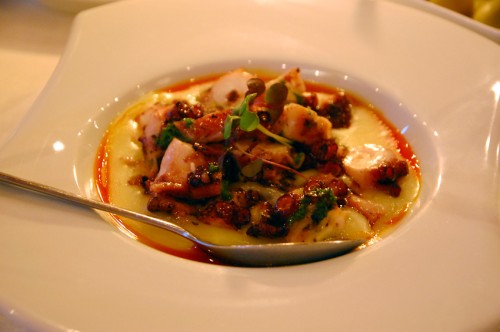 Reviewed in September 2008 I said: "I've left it to last. I love Cambio De Tercio. They tick all the right boxes for me. Spot on, zippy service, waiters who know their menu inside out and they make educated recommendations. A robust wine list consisting of the best Spanish Riojas, and one that spans all budgets. The decor that oozes flair, character and is relaxed, just a nice space to eat in."
They serve modern Spanish food and everything is gently cooked, and cooked very well indeed. The dinner taster menu is £37, and I will admit that there are a couple of bump dishes, sometimes. But on the whole, it is a lovely little restaurant. It has a special place in my heart, it's my personal favourite in London and I've had many a great meal. If I had to choose one to go back to again and again and again, Cambio would be it. She's the one folks, she really is. Closest Tube Station is Gloucester Road.
3. Sushi Hiro (Sushi only, seriously) About £20 pp ….. £25 if you are greedy like me.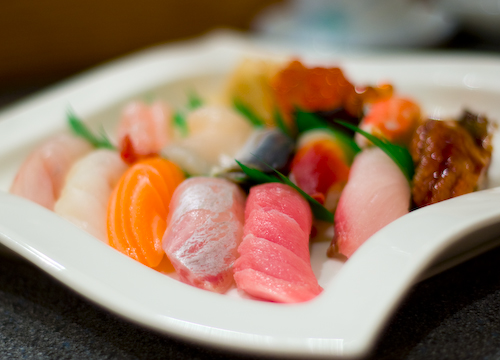 Reviewed in Nov 08 I said: "If you've always been curious about raw fish, then I wholeheartedly recommend you go here to get your introduction to the Japanese delight. For everybody else, you'll remember why you love sushi all over again, it's really that simple."
Sushi Hiro is actually only a 15 train ride from my workplace, and needless to say, I'm a regular sushi bingeing junkie. This is one of the few places that I pop back into every now and again, and its because it just does slap bang perfect sushi on the cheap (relatively anyway). If you love Sushi and you live in London, just go already. Closest Tube Station is Ealing Common.
4. Dinings (Japanese) , £40pp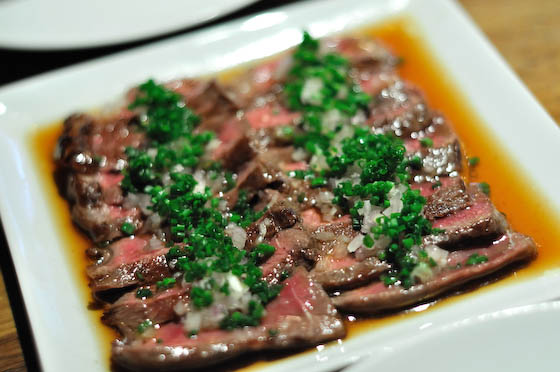 Reviewed in May 09 I said: "Unrestraint and free from pretension; Dinings is a mellow and comfortable restaurant where one can sample some ethereal Japanese fusion. Its not glamorous, nor is it cheap, there are some dishes which appear underwhelming and in comparison to some of the luminaries in Green Park – cooking is not as clinical. But what you get instead, is lovingly cooked food, a subtle rainbow of flavours and sushi that just tastes great. Folks, this restaurant is a little special and if you've never tried euro-japanese food before, then I suggest you try the epitome that is Dinings."
If Sushi Hiro served hot food – it would be called Dinings. My love affair with Japanese food continues and this well-liked restaurant is excellent. Its a romanticised version of Nobu, bit like Renee in Jerry Maguire compared against Renee in Chicago. She ain't special, she ain't perfect but that's why I love her. Cue Bruce Springsteen, Dinings had me at Wagyu tataki. Closest Tube Station is Edgeware Road.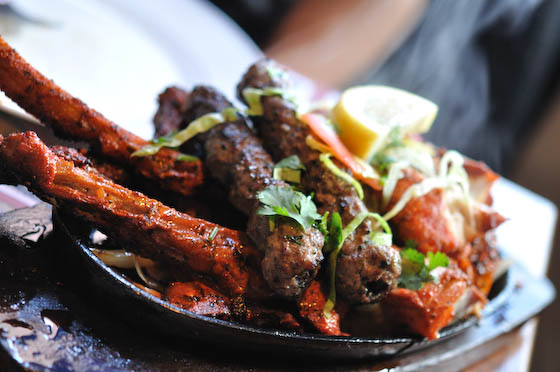 It's just beginning to get a few mixed reviews at the moment, but on my visit, it was pretty amazing. The sizzling dishes were colourfully spicy, yet they were skillfully balanced against a vibrant palette of herbs. I had a great time, and if nothing else, you eat like a king on a shoestring. Bear in mind, this place is almost always packed out, so you'll need to either make reservations, or be prepared to queue for hours. BYO too. Not close to a tube station, but is near Shoreditch area.
6. Franco Manca (Pizza) £6 per pizza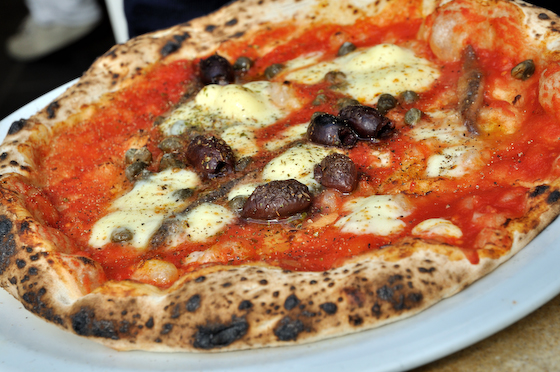 When I was photographing the pizzas on my visit, one of the guests sitting on the opposite table looked at me and told me to go back to my 'Pizza hut' bosses to tell them that this is what 'real' pizza tastes like. Such is the fanfare that surrounds Franco Manca. Widely recognised as the best Pizza place in London, and deservedly so. If you even remotely like pizza, you'll be glad you tried this place out. Closest tube station is Brixton.
7. Great Queen Street (British) £25pp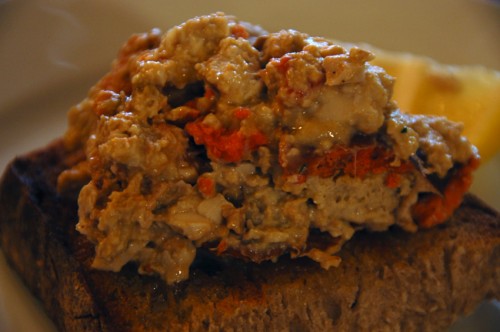 This great British gastropub is often forgotten about, but it serves lip smackingly able British food and it has great ambiance with a kind of lowly lit, family friendly pub atmosphere. You must try the crabs on toast here, it is simple yet stunning; their whole chicken roast is great for sharing and they rotate their menus on a daily basis. A gem in the city, and it is convenient in terms of its location in Covent Garden. Closest Tube station is Covent Garden.
8. The Ledbury (French) £25 set lunch , £50 lunch £60 dinner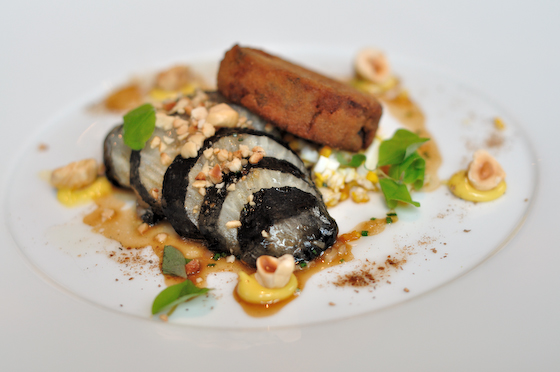 Reviewed in March 09 I said: "I enjoyed the Brett Graham show, alot. I think the young Australian is chock full of talent and he rightly deserves his rising two star status. If he keeps up this standard of cooking, he will rocket all the way to the top."
On my visit, the salt crusted ash roasted celeriac with truffle mayo was perhaps one of the tastiest things I've ever put in my mouth, and that says alot. The memory of the meal is still fresh in my mind. The bleeding edge of the michelin star. If you choose only one posh meal in London, forget the Ramsays, Corrigans or Olivers, and be prepared for Brett Graham. About a 10 minute walk from Westbourne Grove Tube Station.
9. Pearl Liang (Dim Sum) , About £15pp plus tea

Reviewed in April 09 I said: "Wonderful, simply wonderful dim sum and this has displaced the special place in my heart, which was previously occupied by Royal China. I must say, the prices here are very competitive, my bill, 9 dishes, plus service came to just under thirty squiddodles for two, most importantly, food is excellent – mostly it is characterised by lots of melt in your mouth sensations"
There are actually alot of nice places in London to get Dim Sum, and Pearl Liang is definitely one of them. The benchmark dishes in Har Gao, Shui Mai, Char Siu Bao, Cheung Fun and the eggtarts are all spot on. And they even do a £10 dim sum sample set which is not only great value, but is delicious too. This place is my Dim Sum place of choice at the moment. I would also try Royal China, and if my pockets were deeper, then I would go to Yauatcha, for the century egg congee. Closest Tube station is Paddington.
10. The Butcher's Block at Hotel Malmaison (British) £45pp for three large courses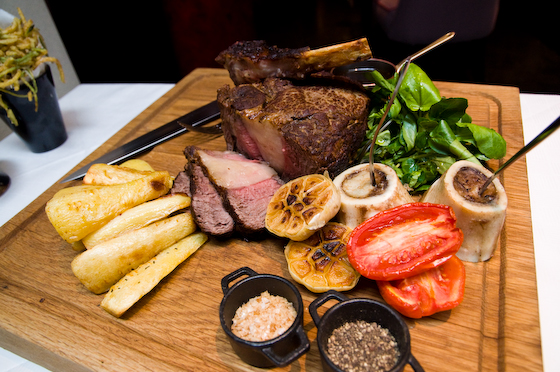 The Butcher's Block is actually a private dining room situated in a hotel in the Farringdon area; the room is of course, free to book out and it can accomodate about six people. Not world shaking technical quality; instead they served very robust and classically delicious dishes. Great terrines, a HUGE roast rib of beef with all the trimmings and rice puddings so hearty, I was stuffed silly. This place is great for family events or a group of mates and for celebration. Closest Tube station is Farringdon.
Like this blog? Why not subscribe to the email newsletter ; alternatively you can subcribe to the RSS feed.