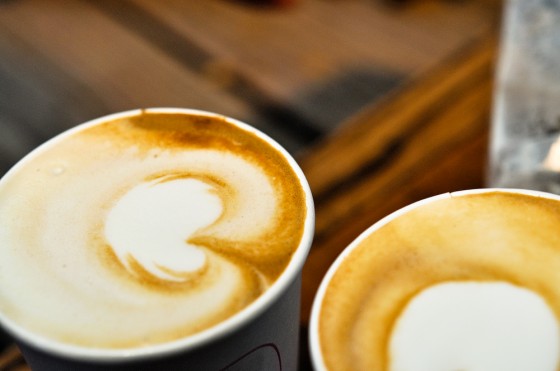 The queue was terribly long, and while I was in it, the barista came out with paper cups and a marker pen, taking our orders along the way. Such was the spectacle of Monmouth, I was rather surprised that the queue was quick and free flowing as I didn't even have time to think about what to photograph at this legendary London institution. If you haven't had a Monmouth yet, well, you need to apply now.
Brewmasters
I am not an expert on coffee, although I do like my cuppa. There's a generally accepted handful of the best coffee places in London; Monmouth is usually mentioned. Though, if you are after a current and definitive one, look no further than Daniel Young's Top 10 places for coffee in London.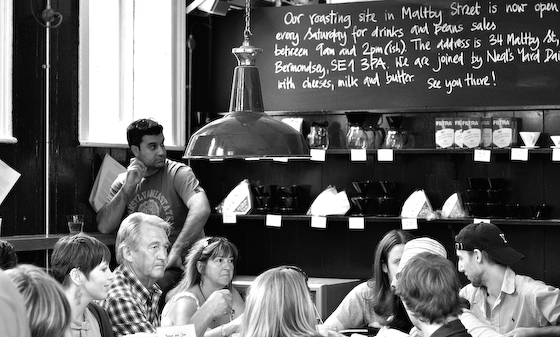 Oh the buzz, the buzz! I sampled my first monmouth at the Borough market branch and I was completely taken by the whole atmosphere of the shop. Packed to the brim, the air was rich of roast and aroma but what I loved most was the communal table acting as the coffee shop's centerpiece. A family headed by a distinguished looking silver maned gentlemen dominated it, conversation, laughter, magic.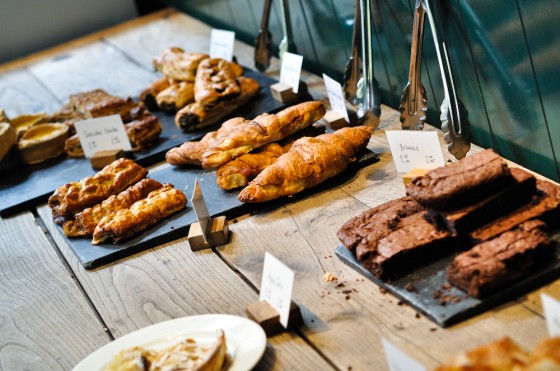 If you're wondering, I didn't have cakes on this trip, just cappuccino to go, with just abit of brown sugar. The pastry and baguettes are apparently supplied by Paul and Villandry.
Spot the pour through cone-filters.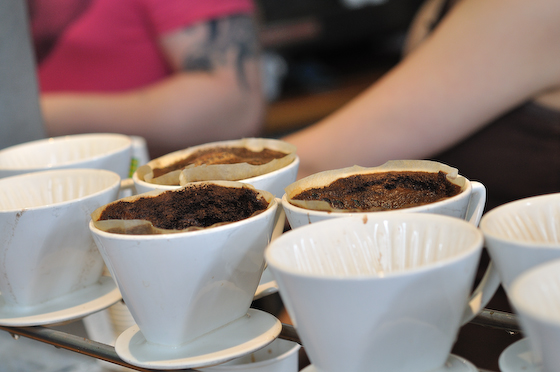 Mmmm … such smooth consistency in the froth, with a milky sweetness and very mild bitterness, it also felt strangely innocent and pure. The coffee itself had a silky mouthfeel, with a rich and bitter hit, and went down like a good vintage year. Indeed, very good.
Now where is my copy of the Sunday Times…
Do you think that Monmouth serves the best brew in town? What is your favourite coffee shop in London, or otherwise? I'm interested to know, so I can go write about it.
Monmouth Coffee Company Official Website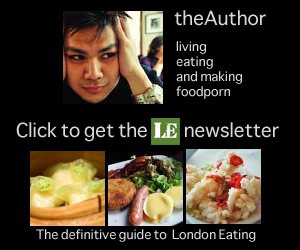 Did you enjoy reading this post? Why not subscribe to my feed updates for free. Alternatively, You can subscribe via email.