High Timber Official Site
8 High Timber Street EC4V 3PA 020 7248 1777
£40pp plus wine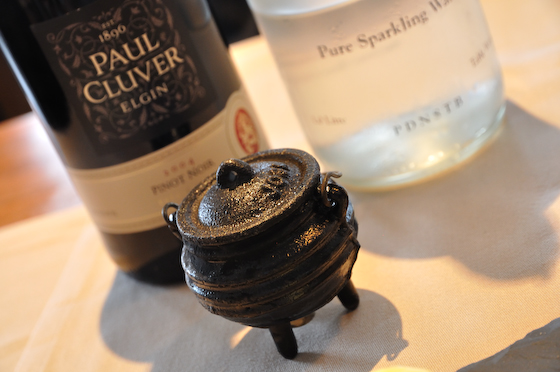 I love to wine and dine. However, my shrinking wardrobe and bank balance doesn't always permit my indulgences on a more frequent basis. While surfing the luminaries of foodie-interwebs, I came across the expertly written, if subdued opinion of London's newest wine restaurant. High Timber stores 40,000 bottles of wine in the cellars beneath the restaurant, not to mention the use of Dyson busting, the 'Xcelarator' in the toilets. Needless to say I was intrigued by their choice of hand dryers and was delighted to take up the offer of a free meal when it came knocking.
Xcelerate me.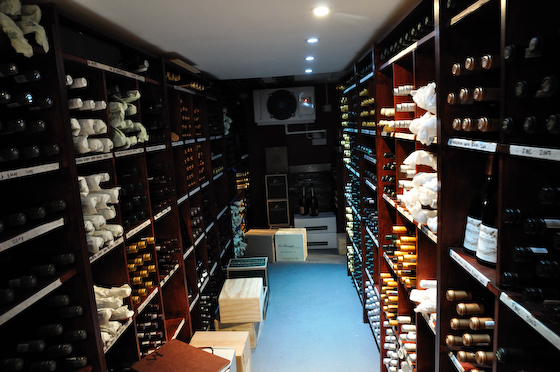 At the very end, I popped my hands under the glorious machine, and was relieved it didn't cut my hands off. But I am certain to have incurred long term damage to my hearing instead. Blech. Zipping around the basement, co-owner Neleen was on hand to show us around the 40,000 bottle storing cellar – oh chilly, a good sign for the wine I'm sure; my presence not so much. And then, one of the funniest moments in my blogging career happened when Neleen turned round and said "So which magazine do you write for" , I said "I'm a blogger… ya know, LondonEater?"
"Huh?" puzzled and speechless, I wish I captured the moment with my camera as she handed over her handpicked bottle of Paul Cluver '04 Pinot after I told her I have occasional wet dreams about those delicate grapes.
Mmm, back to the main dining area then.
Unbiased biasness
I shant dwell any longer on my complete and total objectivity when it comes to freebies – yeargh its murkier and harder to come across as the ultimate truth from the bottom of my belly when I didn't pay for the food, but I think I am managing ok so far; still if you don't believe this, disregard it and read reviews of meals funded from my shrinking bank account instead. (ie: turning down freefood is the hardest)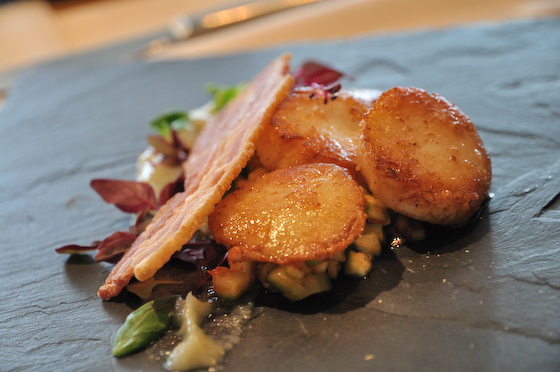 The first course: Roasted Scallops, Apple Salsa, Sweetcure Bacon, Basil Cress £9.50
That is a pretty intense puree. I took my brother with me for this visit. He choose a seafood starter. The scallops were lightly cooked, carried curious tastes of seaweed in the marrow-like sweetish apple puree of sorts. Yeah its ok, a little subdued in my opinion and it didn't jump around like it was freshly reeled in. The crispy bacon was frankly quite puzzling – it didn't really go with the scallops, it was just there, decoration or garnish? Either way, it's unnecessary.
The menu is super short and can be read in approximately fifteen point nine six seconds. Its very bog standard, a straight entrée, main, pudding read: not a criticism, just a little uninteresting that's all.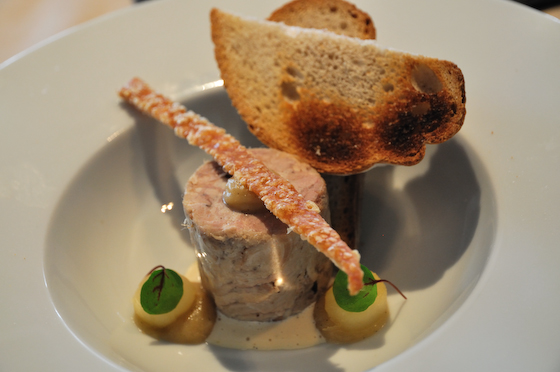 Pulled Shoulder Middle White Pork, Apple and Vanilla Puree, Crackling Wafer £7.50
While my brother did rather better with his scallops, I didn't quite agree with my pork starter. Apart from the meat being a pretty soft texture, it was much too bland for me. It seemed as though the meat was blanched with nothing but boiling water and the chef forgot to bring his salt to work. I think what made things worse was the very sweet, almost custardy puree, making this a very tarty piece of pork. Again, it's quite puzzling, was I having pudding to start? More worringly, was my entrée pretending to be a pudding. A whimsical start and I am feeling about as bland as the pork, shame because the pork was indeed quite soft on the chew.
Whining
So far, its quite underwhelming, but perhaps it could be that Chef is still sharpening his knife skills in the kitchen.. he really should spend abit more time tasting his own food, and maybe even scope out the competition around town because boy, is there some competition in wine bar land at the moment.
On the other hand, our wines were excellent. We started with a glass of chardonnay (which name I did not jot down) that was acidic, crisp and light with a tinge of tropical fruit, vanilla, fig (or dates I can't make it out exactly) and a hint of heat. The bottle of Red Neleen handed over to two twenty somethings was eye opening. Smooth and rich, but with a mineral characteristic closer to a Burgundy than an S.A. Pinot, the smoky oaky fruitiness was forward drinking and almost as elegant as its Burgundian cousins.
Right. I ordered the £27 ribeye steak.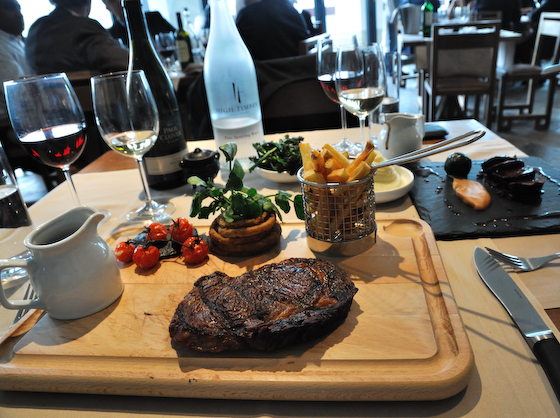 All the trimmings, all the trimmeringings indeed. Let's go round the chopper block, giant mushroom, umami rich check; battered onion rings helping to grease the gastro gears, check; sweet roasted cherry tomatoes; check, check; 350g of matured ribeye beef, chec… no where to be found. Now, I can't measure with my eyes, but surely that can't be 350g of meat, can it? Anywho – taster notes: The meat itself was quite flavoursome, although it's less beefy than I'd prefer it to be. The texture is perfect though, delicately soft, it tastes as if it had be pounded down by Ricky Hatton for 28 days, and is great to chew on. With lots of charcoal in the flavour, I suppose it's an indication that it was cooked to a proper medium rare as requested. It was a good piece of meat, just didn't have that oomph for me. The steak is also rather subdued in flavour. Thankfully I added a pot of cabernet jus with the steak because this really made the steak fly. It sparked and sizzled away with the red wine gravy – red fruits, jammy, rich and just luxurious; it breathed much needed life to the lifeless meat.
Next.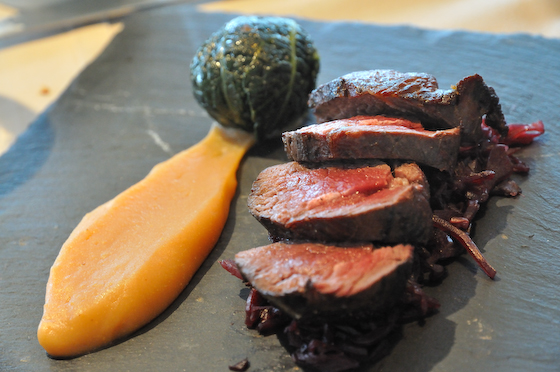 Loin of Venison and Braised Haunch, peppered red cabbage, quince puree £21.00
One steak is more than enough for the table, so my brother went with game instead. This is more successful than the beef. The tender venison was nicely cooked to a medium rare. The smokey game was a welcomed change to the flavourless steak. The dish is good, but certainly not great and there were far too many sweetish elements involved. This time, in the form of a quince puree and the balance between too much sugary versus something very gamey just made it abit strange. On the side was a curious red cabbage wrapping around a mushy haunch mince, more akin to a kidney or a pate of some sort. I couldn't quite understand it, perhaps it was just me but I did not enjoy the Chef's combinations. Everything is abit off balance, and off balance is not a good thing.
All in all, the meats were alright, not world shaking stuff, and for £27 one would have anticipating a fire breathing dragon but in its place was a rather harmless, furry little gremlin. One who is much too sweet to mount a proper attack of the senses.
Pudded out.
Right, I sussed it – the sous chef must have accidentally passed the sugar instead of the salt. With so much sweetness going around, I was expecting a pudding explosion because this chef seems to have a real sweet tooth. Enter the fruit bomb.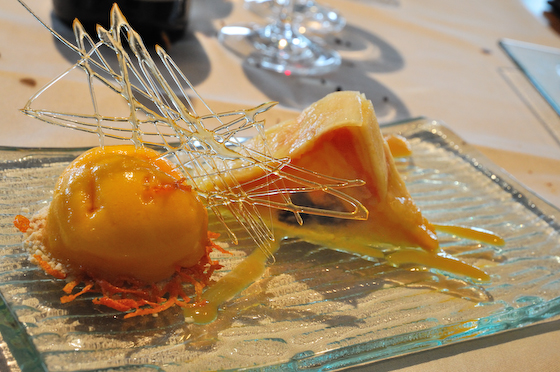 Fruit Terrine £7.50
Gorgeous fresh fruits pressed together into a concentrated and intense terrine. Now we're talking – instant classic here, and one of the more innovative puds Ive tried in recent memory. As expected the juicy layers were shooting all kinds of fruit infusions toward my tastebuds and the concentration of citrusy mangoes, pineapples and blood oranges really took this dish to the moon. On the side was a honey-rich flavoured mango sorbet which I really enjoyed as well. Really lively and it wiped my palette clean of the distant memory of the bland pork.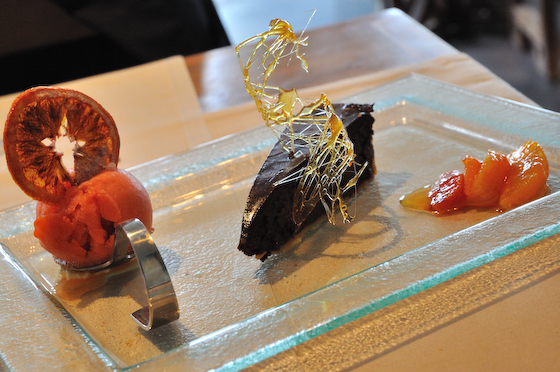 Also very good was the solidly made chocolate tart served with a lively blood orange sorbet on the side – both are excellent, on its own,  not so much when eaten together.
A delicate balancing act.
The food at High Timber is abit like the view at High Timber. Situated along the river, it advertises itself  as one which has 'one of the best views' of any restaurant in the country. Yeah that would be true if it were not for the four metre wall obstructed it. I had to stretch my neck to catch a good glimpse of the millennium bridge, and even then, it wasn't really that exciting. I ate on a boat cruise once which whizzed up and down the Thames for four hours; I distinctly remember eating my pudding as I passed under the imposing London Eye. Now that is a view.
Having said that – food isn't that bad, they do a lot of things right, but perhaps on a personal level, the balance/combination of flavours just didn't work for me – abit of a one trick pony in the sweet plus meat section, perhaps its done in this way to compliment the wines, but I didn't see any wine recommendations to go with individual dishes on the menu, I think the connection between the wine and the restaurant is a little lost, or perhaps not emphasised enough.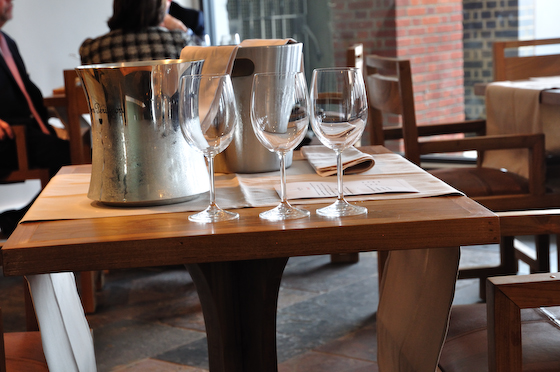 In terms of food – I believe the chef really needs to cut down on the sugar and perhaps invest abit of his time researching other types of umami combos. However, this place does churn out excellent puddings – the fruit terrine is quite special and I could think of the myriad of wines which could compliment the dish.
Wines, well Neleen choose some excellent stuff for us, the wine cellar tour was very cool if abit brief, so top marks for that.
Perhaps they are still working out the kinks, after all it's barely a couple of months old; as it stands, its merely an average wine restaurant, not particularly bad, but nothing particularly outstanding either. The all important price point – £8 starters, £20 mains is not expensive, but certainly not budget friendly either. For that sort of price range, there are lot of places which can produce a much more pleasurable dining experience. On the other hand, their set lunch menu is priced aggressively at £15 for two courses and £18 for three – a far more attractive option, and one I expect most diners to take if one so chooses to dine here.
A restaurant with half a view is nice to have, but in my humble opinion they need to pay abit more attention to the food if they are to please those who love to wine and dine.
The Gist of It.
High Timber Official Site
8 High Timber Street EC4V 3PA 020 7248 1777
£40pp plus wine

Verdict: Wines are good, food could be better for the price, overall could be alot more exciting that its current iteration.

Did you enjoy reading this post? Why not subscribe to my feed updates for free. Alternatively, You can subscribe via email.