london eater is the one man eating machine chomping his way through his beloved city of smoke.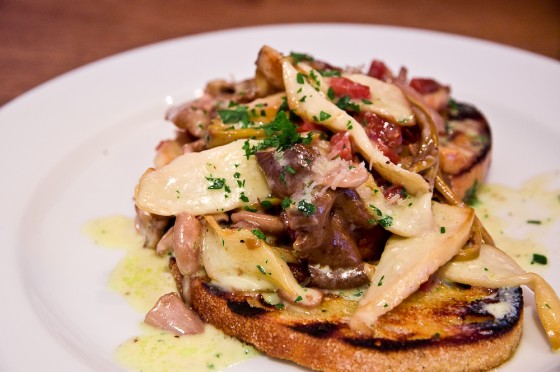 You remember that song don't you? You know, that one with Adam Levine and Maroon 5 all those years ago. The opening piano riff, the acoustic guitar coming on. I have to admit, waking up on to do a food write-up on a cold sunday morning ain't the easiest. Especially with the holiday season knocking 'round the corner, it gets harder trying to churn out some constructive ramblings.
I was mulling over when to release this review since it was last sunday when I woke up and decided that I should do a review about breaking the fast. It would be injustice if I didn't do one of these especially noting it's importance in a healthy diet – as my dad used to say:
"Son, breakfast is like a gold medal. And so you should treat your three standard meals in a day like winning gold, silver and bronze. Whatever you do in life – as long as you never miss breakfast, you'll be a winner."
selecting you to eat
Are you like me when you choose a place to eat? You sit there, thinking you know your city, but in actuality, there's so much you still don't know about. In your mind, you make this assumption that you kind of know things exists, either that, or someone told you about this place or that place and you think to yourself  "I know the best place to have breakfast" .
Yeah right.
If you don't already know, urbanspoon has this cool iPhone application where you can put in a few criteria of what you want to eat and literally shake the phone for it to return a few results. Did it tell me to eat at the providores and tapa room? Nope. I used trusty ol' timeout for this one.
Queue before you rock
We showed up closer to lunch than breakfast time in the marylebone village – which is fast becoming the foodie equivalent of the square mile – and were greeted with a long queue just outside the restaurant. You might have noticed the rather long double barreled name in the providores and tapa room; well the doubly nature manisfests itself as two separate eateries. Upstairs is the posh dining space 'the providores' featuring innovative cooking and…. that sort of thing (it's sunday, what can I say?) , while downstairs is  'the tapa room' which is a breakfast-cum-wine-cafe-bar chill out zone for those looking for a lazy spot to settle down.
While Im still in the queue ( I called beforehand and the tapa room does not take bookings) , I'll take the chance to talk abit about the menu. This much heralded double whammy of an eatery is run by Peter Gordon and Michale McGrath, the team from down under has brought abit of classy fusion to london marylebone, and their menu features teriyaki infused sweetcorn which sits comfortably next to the rabbit & foie gras terrine. Although, on this occasion, I came here specifically for their breakfast & brunch menu, which in itself is a pretty interesting read. With grilled sardines and paprika roast potatoes, greek yogurt and grilled chorizo on courgettes – the rainbow of diverse ingredients somehow evoked a sense of inspiration and wonder which one feels when walking down a food market gawking at the fresh produce and the endless ways in which they can be combined together – in harmony- to create some truly tasty dishes.
Not that I don't appreciate a full english ( I really do ) , but with such rule bending cooking at hand – I had to try it for myself to see how it hangs together.
Is a poached egg a fry up?
The wait was a short fifteen minutes before we were ushered into a rather tiny eating space with low hanging fluorescents, the day was cloudy but the dim lights made it downright gloomy. Aside from a pretty small bar table, with a smattering of fresh pastry and cakes, the middle of the room was dominated by a long table and high stools, while we were sat in the corner on 'normally low' tables. Very cosy, but I'm stll abit troubled by the darkness of the room.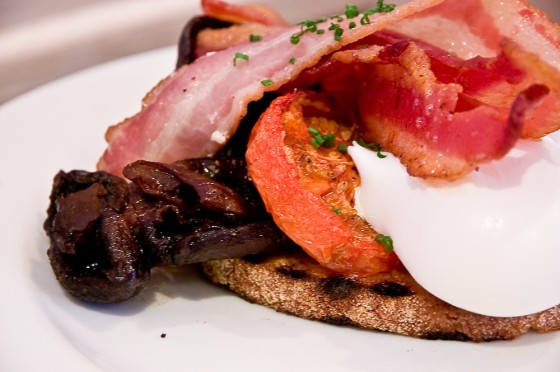 The lack of light aside, I was really enjoying the cool and relaxing atmosphere the space evoked and I thought it was the perfect place to settle for a sunday breakfast. The buzz was infectious and it really did wake me up. Oh what's for breakfast?
Everything looked so good on the menu, but my eyes just couldn't tear themselves away from the classics. I looked the menu up and down but the results were the same – french toast, fry-up, eggs, eggs, eggs, bacon …  I knew that on the first visit, no matter how much I wanted to try the more imaginative stuff ( Pineapple, grape, pear, pink grapefruit and satsuma fruit salad with vanilla poached figs ) , they would have to wait until my next.
I usually have two modes of operation when I go out to eat these days and I refrain from putting my blogging hat on when I'm eating with friends. But on this occasion, I dragged the meister out to breakfast with me. She had already been on a couple of other trips with me so she was comfortable with the picture before diving in moment. As with any self-respected, amateur photoboy, one struggles and takes the time to get 'the shot'. With the restaurant being rather dark – it became even harder to avoid the camera shake with long exposures. The result is one very hungry and pissed off looking (albeit, good looking) lady waiting longing to eat her breakfast.
Perhaps like her, I've made you wait about 900 words before I would deliver the taster notes on her fry-up. Consisting of her choice of two poached eggs, grilled smoked back bacon, sauteed field mushrooms, slow roasted tomatoes on sourdough. While the combo is relatively straightforward, it's taste was anything but. The bacon had a smoky intensity which reverberated with the fragrantly buttered mushrooms and the nicely grilled flavours were wonderfully balanced against the tangy tomatoes before breaking the eggs to reveal the yolk running down to the bread. As one would expect, very classic and predictable flavours, this was just a solidly cooked breakfast which would make any englishmen grunt with pleasure.
Grunt.
Let's talk about parmesan and toast
Before I go on too long, I'll just bring you back to the lead picture of this write-up which is my order of sauteed creamed wild mushrooms with parmesan and jamon on toasted sourdough. The first thing I noticed when the waitress brought the dish over was the fragrance. Hang on, here's the picture again to remind you: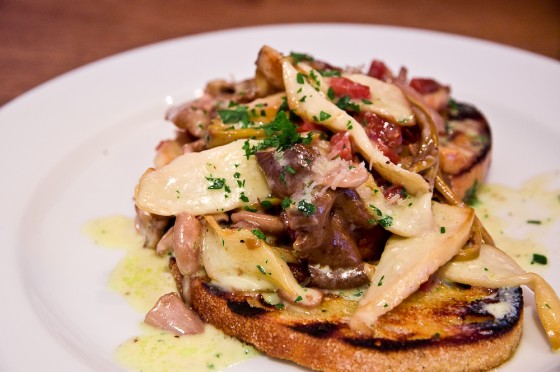 The melted cheese gave way to this full buttery smell which was accompanied by the lovely aromas of the steam rising from the cooked mushrooms. It opened up my appetite entirely and I just had to dive in.
By the way, I don't take notes anymore. I used to whip out my moleskine on restaurant trips because it made me feel like some sort of bona fide critic and I would hastily and scrutinisingly jot down pages and pages of thoughts with each bite… yeah, that was so daggy! ( It's australian for uncool – you learn something new everyday eh? )
These days, I prefer to keep as low a profile as I can – so I use my mobile phone. I still hold on to my trusty Nokia 6300- and this is for all budding foodbloggers and wannabe critics out there- use the sms function to make notes and turn on the t9 – it really is a godsend.
Intense, the parmesan melt provided the foundations for the flavour profile which was creamy and made for a distinctly able balance of stinkiness against saltiness. The mushrooms had a hard cheese like chewiness which gave it much needed texture and form. If the cheese brought seasoning, then the ham brought much needed flavour to bring the dish to life and together provided for an umami rich topping which went so well with the sourdough. To sum things up, this was a hearty breakfast.
Eggs on Yogurt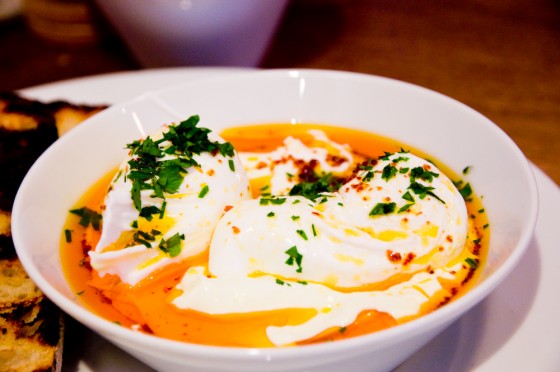 It had all the makings of a beauty queen. I genuinely thought she was the one. I caught the first glimpse of her on the menu and was gasping. She was exotic in that her name was turkish and she came from the restaurant known as changa in Istanbul, which legend has it, was a maverick of a place which carried no rules in it's recipes and violently fused cooking styles from across the globe as they saw fit. It angered food snobs left, right and centre but that idea only served to intrigue me.
And this was perhaps the most eye-catching dish on the menu which I had to have. Two poached eggs with whipped yogurt swirling in a hot chilli butter. It looked so stunning it could not fail right?
i fell for the gimmick in the caveat of the changa recipe but it was god-awful. First of all, the whole thing is cold. Even the butter – which tasted rather more like chilli oil- was cold, the greek yogurt was cold and the eggs were stone cold too. Spooning some of this stuff was abit disturbing in that it was just dollops of heavy oil with cold, tangy yogurt and some COLD runny eggs. The sharpness of the yogurt was further elucidated by the coldness of the dish. As it went down my throat, I could literally feel the yogurt and saturated oil going down my stomach. I'm sorry, this was just too weird for me ( that must be some kind of record for the frequency of the word cold in a paragraph) and dare I say it – was just absolutely disgusting.
Yogurt and eggs do not go together, especially if it's swimming in a sea of cold oil. So much for 'the one'.
Mochaccino or Cappuccino?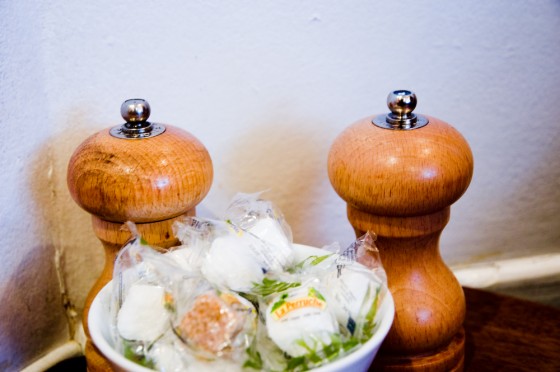 l got into this debate with the meister when I said "oh, I love mocha, that's what I usually order when I go out" . She looked at me in disbelief, as if I was only pandering in our coincidental choice of brew. Ok fine, my brew of choice is the cappuccino (as my tea lady at work can attest to) but on occasion, I do plonk for the mocha. The only thing that stops me from doing more mochas when I'm out is the unusual price discrepancy between a few spoonfuls of chocolate powder – does it really warrant it being 50p more expensive? I should think not, is the coffee at the tapa room awesome? Yeah actually, it really was rather good, the foam was thick and creamy. Yum.
Anyway, in summary – The Tapa Room is a great breakfast spot and a lovely place to laze around on a sunday. Breakfast is served till 3pm, otherwise the innovation continues in their all day menu.  If you're comfortable with trying something out of the ordinary, then you will be glad with the food here – whatever you do, stay away from the cold turkish eggs and you'll be just fine.
The Basics
Providores and Tapa room ( delete the one which you did not visit )
109 Marylebone High Street W1U 4RX 020 7935 6175
How to get there: Baker Street
How much: Standard, £15 to £20 per person easy.
http://www.theprovidores.co.uk/
Did you enjoy reading this post? Why not subscribe to my feed updates for free. Alternatively,  You can subscribe via email.