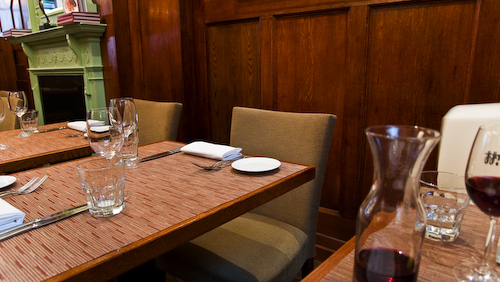 This review is way overdue.
First of all, wild honey's reputation precedes them, yet I feel like their presence is still relatively low-key. I think of wild honey as the new wave of modern awesome british restaurants serving exciting food and modernising the sour reputation british food carries. Did I mention their three course set lunch menu is only £16.95?
Chicken or eggs?
I'm not sure which came first – I think the dynamic duo of Anthony Demetre and Will Smith debuted with arbutus and then following the runaway success of that great little soho eatery, they've gone ahead to open their second culinary delight in wild honey. Both arbutus and wild honey are part of this new up and coming batch of 'budget fine dining' spots.
I find the concept very refreshing indeed. Chef Demetre almost seems to challenge himself to keep the menu exciting by crafting superior dishes out of fresh seasonal produce which is good enough to compete with the big boys except that the prices are relatively modest in comparison.
Look, its no secret that London is a pretty pretentious place ( how can it not be being that it's been spoilt by the rich and famous over the years? ) but not all Londoners receive six figure bonuses (let alone any bonus) , but we do love food and we also love sensible prices. £16.95 is about as competitive as you can get.
Actually you know, that didnt do it justice – I applaud Chef Demetre by going down this budget route. I'm going to borrow a line from the dawg himself Randy Jackson " If you can blow, you can blow ".
A great chef doesnt need five star ingredients to cook great food ( credit where it's due: mum's food ) , but a great chef needs passion and should yearn for cooking truly great food. Challenging oneself to emulate greatness on a budget is not just inspirational – it's truly alive. It's exactly what food is all about and one in which I believe all chefs can relate to… it's the spirit of food!
(Help me out here, budding and established chefs, you agree right?)
This is by no means a knock on haute cuisine , but I feel like fine dining need not be bound by french sensibilities and the rigidity of observing every single fine detail to the point where it's almost abit boring don't you think? Let me put it this way, there's only so many seven course meals of foie gras, fillet of beef and lobster tail I care to have. Give me a bavette, give me a bouillabaisse, slow cook an oxtail and serve me wine by the carafes. Food is about variety and imagination, the more the merrier. Afterall, isn't that how Heston helped the fat duck win the best restaurant award?
Let's get the show on the road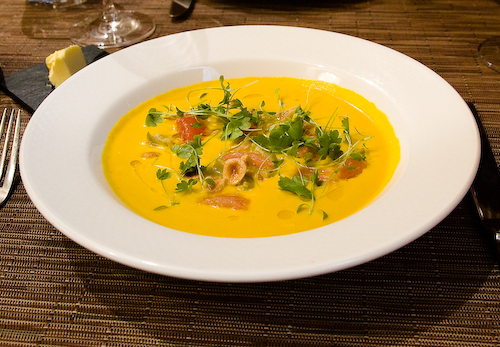 We were unofficially celebrating Evy's birthday so between us we had all six of the dishes on the set menu. I started with the carrot veloute. Off the bat – wow. The carrot veloute was a real mother of a sauce being that it was light & foamy in texture but tasted sweet & creamy. It was delicate enough and didn't have the sharpness of carrot juice. It was enriched with pieces of pomelo, which gave it a refreshing & fragrant fruity burst, some nuts ( I think they were macadamias) to help savourise and round out the flavour profile and finally the palette was coloured with tangy dried tomatoes. The soup definitely did it's job in appetising and just one other thing I couldnt quite quantify: the cooking was soulful. Mm, good.
The alternative starter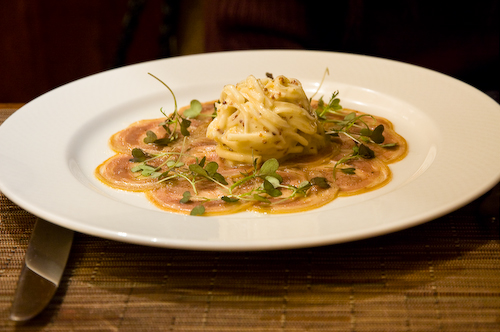 Evy started with the lamb slices with celeraic remoulade. I did have a quick taste of this and while I can't fully comment on it, Evy did really like it. I'll take this opportunity to speak of the similarities between the wild honey menu and the arbutus menu. Basically, they are almost exactly the same. I've actually had similarly prepared lamb slices at arbutus, with the garnishes being slightly different, but generally speaking the basics of the dish are about the same. I will mention again, I don't know what it is, but the cooking here is just soulful. Maybe my tastebuds are being numbed by the coming winter, but I just can't seem to define this 'soulfulness' that I feel.
Let's get muscular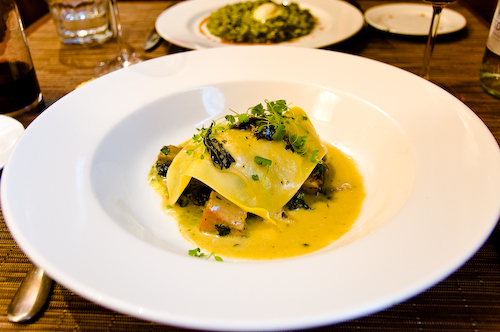 Alright, mains was lasagne of veal, spinach and mushrooms.
It just smells great. The dominant veal and the fragrance of the mushrooms filled my head with hearty aromas. The sauce was creamy and had hints of sweet vanilla. It was delicate yet the sauce gave me mini explosions of roastness in my mouth. So far so good. The pasta is well cooked, the veal was oh so soft and it's meatiness melded nicely with the mushrooms. I found this dish to be simple and effective. It's pretty clear what the ingredients are, and I think that allowed the chef to focus on making sure it was perfectly cooked. Well, it wasn't just perfectly cooked, it was superbly cooked. I think that's the soulfulness I've been banging on about – it was just a reflection of great cooking.
Eww risotto.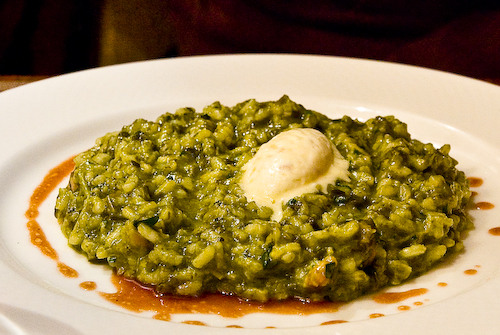 I love risotto. But this risotto with smoked eel, um just wasn't very good. Sure it looked great but it just didn't taste of anything special. While it wasn't bad , it just tasted like home cooked risotto… and Evy didn't feel like she wanted to finish the dish. This was a pretty big miss in my opinion.
Cheesy plates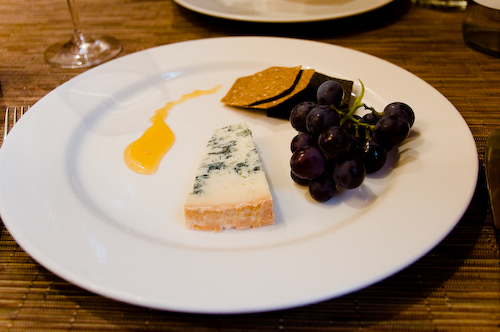 I ended my meal with the cheese selection. So its a slice of gorgonzola ( i think )  , some grapes and dinky crackers with abit of honey on the side. While I do appreciate a good chunk of cheese, it wasn't really anything out of the ordinary and really not worth talking about. I think that just means that the cheese wasn't all that great.
Float my pink boat won't you?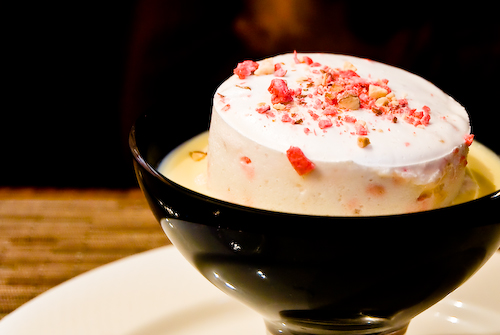 Evy chose the star of the menu in the floating island, pink pralines. It's a light souffle floating on top of a custard soup, with pink pralines. This dessert was worth the price of admission alone , its a stunning pud. The souffle cooked to perfection was beautifully light, delicately airy and the fragrant rose-like sweetness was balanced against the cool custard soup. I was eating my cheese and watched enviously as Evy slowly but surely devoured her pud. I was so tempted to order one for myself, it really was that good.
Have they got a michelin star yet?
For the price you pay at honey – the food is nearly peerless. You're not going to get better quality than this at £16.95 per head. I believe arbutus are a one star establishment now. However, compared to wild honey, arbutus is just appalling. Don't get me wrong, before my visit to honey, I did love arbutus ( you must try the pigs head ) but being that wild honey menu is so close to arbutus', it was surprising that the cooking here is so much better. It's just more refined and more soulful. In summation , forget arbutus and go to wild honey.
Did you enjoy reading this post? Why not subscribe to my feed updates for free. Alternatively,  You can subscribe via email.

Basics
Wild Honey 12 St George Street W1S 2FB | 020 7758 9160 How to get there: Oxford circus tube How much: For fine dining? Cheap. For everybody else competitive prices. Starters from £10, mains £19 and all wines by the carafe http://www.wildhoneyrestaurant.co.uk/