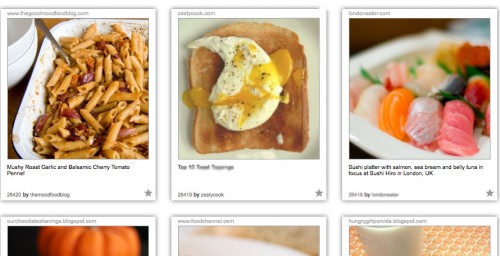 After a long morning staring at that spreadsheet or coming out from yet another mind numbing meeting with the powers that be, you are greeted by yet more paper pushing. You are very much looking forward to a quiet lunch at your desk, to double check those numbers perhaps and maybe steal a quick minute to catch a daily dose of your favourite foodblog updates. For some apparent reason, you have landed upon this site and are five seconds away (from getting frustrated by my reminder of yet another morning in the bland and soulless climb up the corporate ladder) from hitting Google on your bookmarks…
Wait.
I'm about to give you ten reasons why you should keep reading this.
A Prelude
Today, one of my entries made it to Tastespotting and I'm tearfully proud. To see my sushi platter( well technically, its sushi hiro's platter) among all the delicious photographs filled me with a sense of achievement.
Cue fist waving.
If you hadn't noticed, I am still a learner of the great art of food pornography photography porntography. Though I don't have a studio and rarely shoot in controlled situations, I do go hand-held when in search of that dish. I may have cast London Eater as a restaurant reviewer but hiding behind that moniker is my true intention to celebrate food. Like the graceful spring wind reproduced ever so beautifully by the genius of Lang Lang, I want to use my best abilities to paint a flowing portrait of the culinary excitements I come across so often in the city I live in. Words only do so much because they cannot fully capture the essence, the soul and all the passion & life which has been so lovingly poured into a recipe. That is why we foodies supplement our gastronomic disquisition with portraits.
As I said, I am but a mere mortal in the magnificently colourful world of food and like you, grasping my usual ham & boiled egg baguette firmly in hand, I push that mouse ever so gently to revel in the (digital) grace of the food pornotography gods….
Ready?
TasteSpotting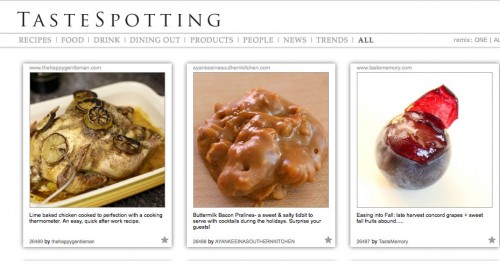 Sarah the tastespotter accepts food photo submissions from anywhere and everywhere. Think of it as a greatest hits album which gets updated on a rolling basis. If all you ever want to do is feel hungry while websurfing then TasteSpotting might be the spot for you.
James Starmer – Food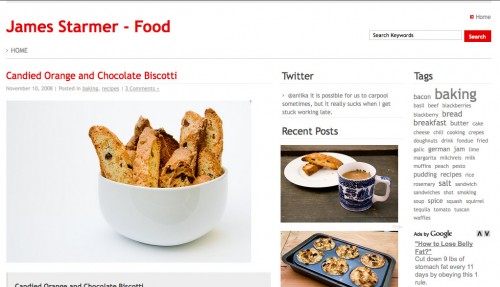 If ever there was a foodblog where I could feel comforted and lazy. Starmer is daringly clean and his pictures are as sumptiously breezy as his posts. Make your favourite brew and settle down for a lazy afternoon with James Starmer.
delicious days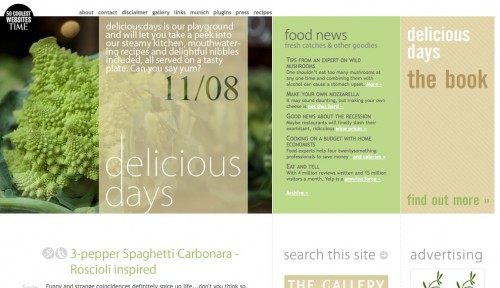 delicious days has won the adulation of the blogosphere and the traditional press in the three years it has been live. Maintained by Nicky who (simply) loves to cook. This gem of a foodsite is featured in Time magazine's top 50 coolest. Trust me, you'll like this one. Certainly made my days delicious indeed.
eatshow&tell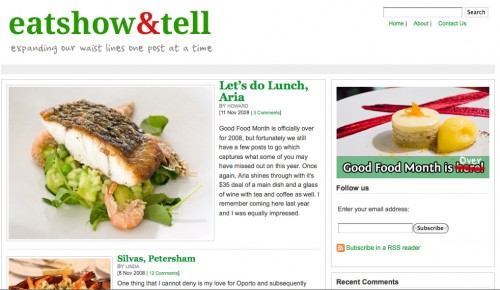 I love Sydney. Its beautiful harbour is matched by the myriad of excellent restaurants dotted across the urban jungle. There is nothing in London that comes close to the freshness of Makoto Sushi and I am delighted that Howard and co have decided to eat show & tell us all about the greatest eateries from the land down under and from a site design so crisp you want to literally lick it clean. Oh, did I mention the pictures? They're awesome.
Zesty cook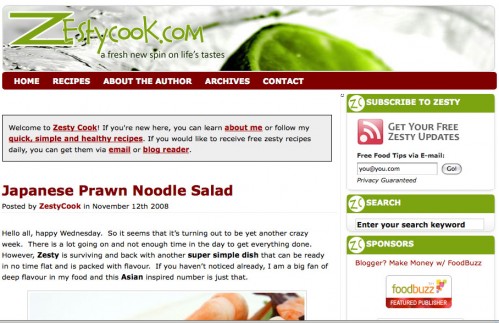 Macro, high contrast, rich colours and just intense. Cory the Zesty cook is stylistically refreshing, each of his posts almost aims to saturate your screen with amped goodness supported by robust recipes and  photographic step-by-steps so that you watch, and learn.
IDEAS IN FOOD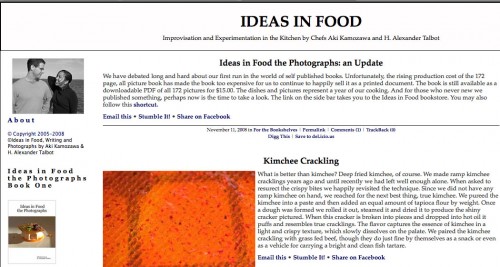 The imaginative experiments in the kitchen of chefs Aki and Alex make for a refreshing read as I am constantly blown away by their latest creations. If you are searching for inspiration and some Ideas in food , scroll down, keep your eyes on the right side bar till you hit photo albums and then be prepared to feast your eyes…
Still Life With…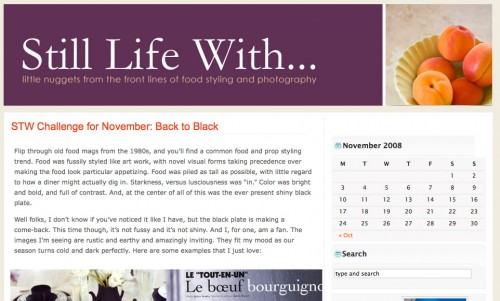 Still life with… is dedicated to food styling and photography. The photos are naturally a cut above and L frequently mixes her food with a dash of photographic tips. If you want to learn about how the pros do it then make a date with still life…  
smittenkitchen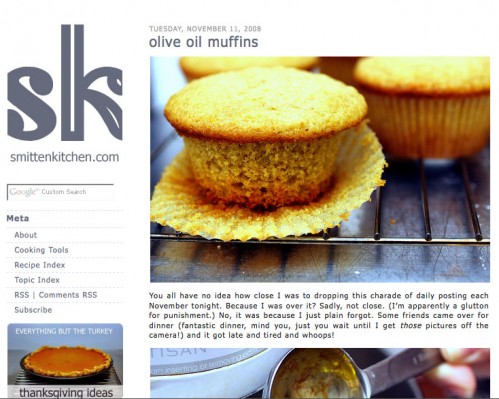 I could sit at my computer all day and read every single post at smittenkitchen.com , rustic recipes with photos that seemingly capture the lovely creations in the smitten kitchen. If I had to pick one , this would be it.
Baking and Books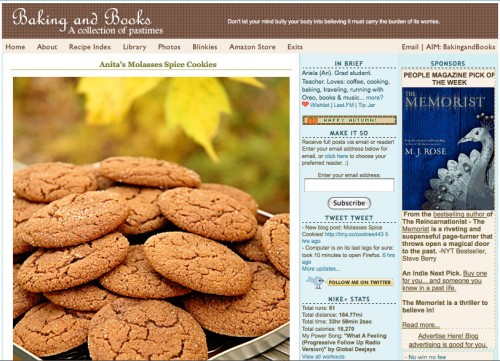 Ari's personal collection of past times is literally one of the sweetest foodblogs you will find around the web. Becoming exclusively vegetarian since June '07, her collection of recipes will have you sniffing out for freshly baked cookies even if it's just words & pictures leaving your sensing tingling.
Scrumptious Photography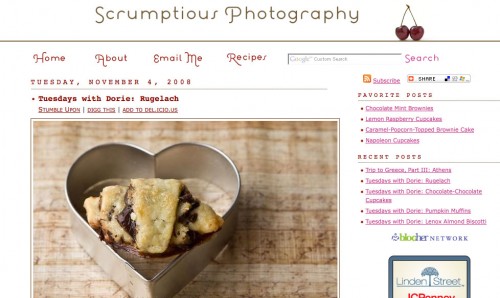 Last but by no means least, to round off this list perfectly is Kim's scrumptious photography which is simply about food, photography, food photography.. and well, you get the picture.
Before you go
I hope you find this list an interesting read. I've only been more than delighted to pass on some of the most delicious food pictorials around the web and I do hope they bring a smile to your face as it does mine. Well, that's my take – now it's your turn, what's your favourite food photo site?  
Did you enjoy reading this post? Why not subscribe to my feed updates for free. Alternatively,  You can subscribe via email.