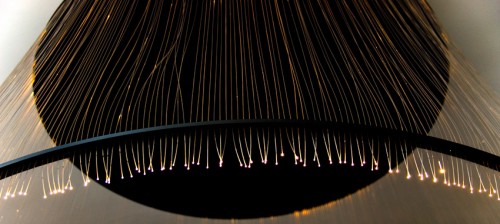 It is true british food has a bad reputation. It's so bad even british people think so too… but not everybody. There is a growing contingent ( or I should say, one that has always been there, but just very quiet ) who know that British food is more than curry chips and fried fish. It so happens, I'm one of those buggers.
SW Seven
South kensington is home to some landmarks such as the Royal Albert Hall, the natural history museum and is in fact, just off the side of hyde park where you can catch a glimpse of the Prince Albert statue in all its golden glory. Its suburbia and very residential. Did I mention that it's also terribly expensive to live in this particular part of town?
So what is the point of me telling you this? Well, its history. Launceston Place has history. It's been serving the residents for many a moon, but recently ( as recent as 8 months ago I believe ) , the old management ran out of steam and sold the place on.
Today, at the helm is Chef Tristan Welch, formerly of Petrus, of Marcus Waering fame and yes, formerly of the Ramsay empire. Excellent pedigree, so expectation naturally, is high.
Enter the Great British restaurant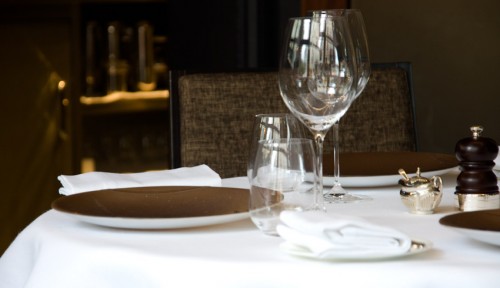 I've walked past this place many times on my way to Wholefoods on High Street kensington and have always been rather intrigued by their sunday roast menu. Then one day, it shut down for refurbishments and when it eventually re-opened, it just looked as if Mark Ronson did a remix version. I.e. it looks cooler now.
Black woods and pristine, pressed white table cloths. The restaurant is very smart and very clean, almost too clean to the point where I felt I like I had to put on a jacket just to eat there. They have comfortable long sofas for the tables by the window. Very nice for the lady to just sink into, I suppose.
This reminds me of the time I was told that is table manners for the man to sit facing the wall (or window in this case) such that you give the lady your absolute, undivided attention. What say you ladies?
Intense, I do digress.
What's for lunch?
Today I popped into for a spot of lunch. The weather is just all over the place these days. One day its sunny, the next is raining. If only it were sunny all year round, London would be such a beautiful town. Then again, it'd be nicknamed something like the big glare instead of the big smoke, which is a cooler name.
I do digress, yet again.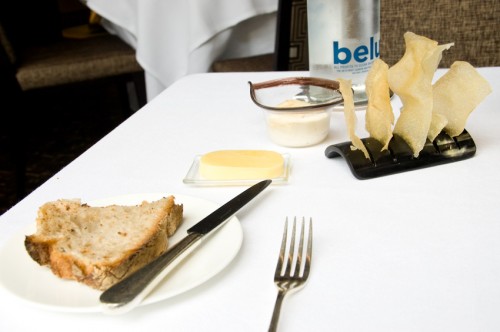 Their £18 three-course lunch menu caught my eye, have a look on their website here. I noticed that it's pretty seasonal. On their website, starters include a duck rillette & spider crab risotto and they've got cornish lamb with globe artichokes for mains; on the occasion I went, the duck & the lamb were replaced with scallops & roast plaice respectively.
For £18, all the ingredients are of quite high standards. Ok so, I'm only expecting three courses, right?
Well, not quite :D, yes its good, smiley face. While I studied the menu, they brought over these rather interesting razor thin crisps with a rather lovely and smooth garlic cream cheese dip.
Cool, so what's for lunch?
Pre-starters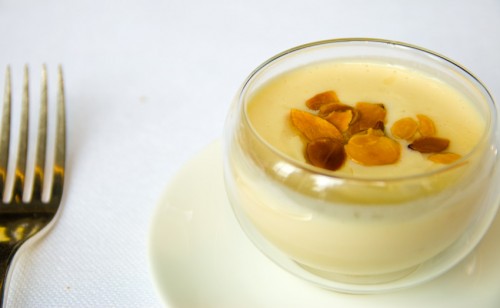 Oh, hang on this doesnt look like my spider crab risotto starter. Not yet, while I wait (for my trouble) , they bring over a hearty celeraic soup with toasted almonds.
(Freebie!)
A mightily tasty one to boot as well. It is, what I can only describe as a savoury espresso. It's quite thick and creamy, it's a very straightforward soup and a good way to start, even though technically, I've not started as yet.
At this point I must point out the elaborate service as well. The sommelier is professionally warm, once he took my order, two waitresses started shuffling in the background and one of them started by placing my cutlery and then proceeded to perform a well-choreographed dance by placing the crisps, then stealthily inserting the butter and the garlic cheese before another finally brings the bread basket for a choice of soda brown or white.
Yeah it was pretty fun.
Spider crab risotto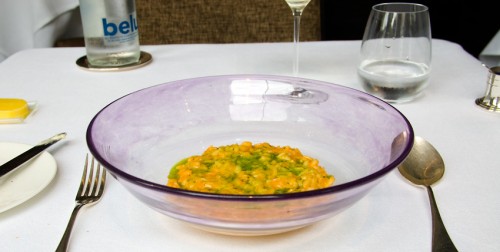 Before I had a chance to take a picture, the rice was actually covered in a cooked spider crab shell, which looked really interesting. Et voila, oh that smell! The immediate fragrance of the crab fills the table and was just lovely. Garlic, olive oil and crab infused, the smell had me salivating even before I lifted my fork.
A mouthful. Rich, creamy and steamy. The sauce was definitely made with the broth from boiling the shell of the crab. The seafood juices are fully developed and very dominant, it's given way to a buttery, creamy and just very rich palate of savouriness.
The rice, I will note, is a little different from conventional risotto. It's not soft and creamy, rather it's quite chewy and the individual pieces of rice don't stick together. Small matter, because it gives it an interesting texture which I'm not really used to. It's a good twist that works, oh I have to mention that sauce again. I think I'm getting some saffron as well, but really it's just so rich, almost alittle too rich as I come to finishing the dish, but very good indeed. A heavy starter albeit but a very appetising one.
Beef Anglais
The mains is a beef casserole with sweet carrots, crispy bacon, radishes and a parsnip puree. The sauce is very light and just barely coats the ingredients. I started with the carrots, which are gently sweet. The radishes give the dish a crunchy and fresh edge to the bite, while that parsnip mash is just umami-rich and gives it alot of savoury goodness. The vegetables, in addition to the bacon combine to produce a perfumery fragrance to the dish. Very colourful both visually and tastefully.
Oh, the beef is so tender and just falls apart upon cutting. It's definitely slow-cooked (for a very long time) and it's given way to a very soft texture indeed. The taste of the beef is very mellow and it feels like the beef is there to provide a backbone to the flavour profile while the rest of the ingredients blend to give the overall taste. This dish is restrained and controlled, mellow and soft almost in total contrast to the rich and big starter. It works, I feel like I had two well-balanced courses. Nothing seems over the top, all the flavours are mild and very straightforward. The chef has a very clear idea of what he wants you to taste and I think that singular focus actually works very well. It's just straightforward good cooking.
Applause.
Pre-dessert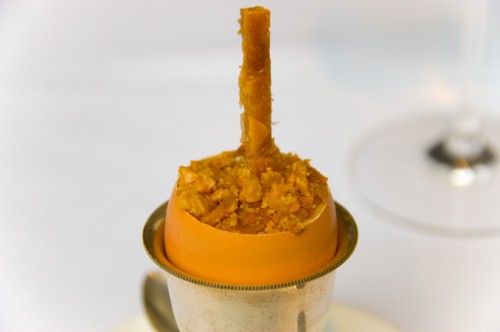 Wow. They caught me by surprise once again! Another freebie-goodie? This time, for my trouble of waiting for the dessert, they are offering a baked vanilla cream custard with hazelnut nougat. Notice it's served in a egg shell which is a nice touch, albeit a little gimmicky.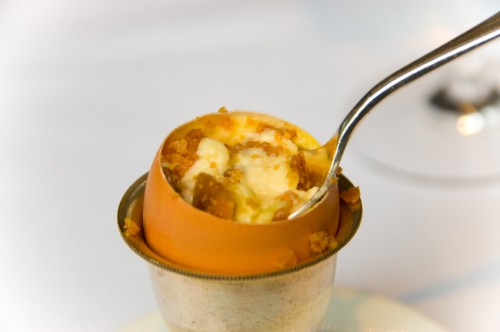 The vanilla custard was very smooth, delicate and mildly sweet. The hazelnut nougat was really a treat. It was nutty, crumbly and tasted of honey. This is almost a twist on the creme brulee. The fact that it was free, just made it taste all the more better.
Will the real dessert please stand up?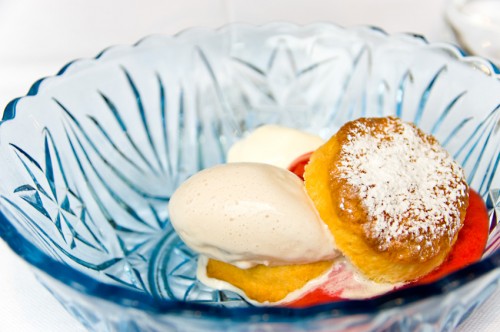 So I thought the pre-dessert was good, but this was a real stunner. Officially, its called the cornish cream tea pudding. What it really consists of is a good dollop of cream tea ice cream, the off-cream coloured one in the foreground. Behind it sits the dollop of clotted cream. If you've never had clotted cream, its a really thick and luxurious cream that has the texture of a really rich ice cream, like haagen daz, but at room temperature. Its not sweet, but the taste of the cream is very rich. People from devon will say clotted cream is from Devon, and Cornwallians will claim that clotted cream is really, cornish cream.
Either way, it tastes great. The red sauce is raspberry jam that is full of bubbles and very fruitilly bright. I perked up tasting this. I particularly like the cream tea ice cream. At first, it tasted like an infused vanilla ice cream, fragrant but couldn't quite place that fragrance… and then I thought ah! its tea, hence the nice steamy aftertaste. Finally, the tea cakes allow you to mop up all the nice creamy concoctions. This was such a wonderful way to end the meal.
Thoughts as raindrops fall on my head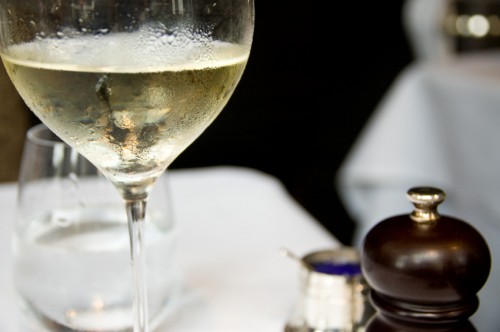 I also managed to order a glass of English white, the Bacchus. It was crisp and limey with a sweet peachy finish. A ode to the summer which we never had.
Well I started the meal expecting just three solidly cooked dishes which are British and understated. Instead, what I got was a semi-five course of innovatively constructed dishes, with well-balanced ingredients that hang well together and spot-on cooking which feature superbly delicate tastes. All this for £18. The rain may have dampened my spirits a little, but the food has coloured my mood. If this is what he can offer at £18, I really wonder how great the £42 three course dinner will taste like. But, that is for another day and another meal.
Basics
Launceston Place
1a Launceston Place
W8 5RL |
020 7937 6912
How to get there: Gloucester Road tube How much: Affordable. £18 for 3-course lunch (plus two freebies!) | £42 three course dinner (not sure if there are freebies) | £55 seven course taster menu ( more freebies perhaps? )
http://www.danddlondon.com/restaurants/launceston_place/