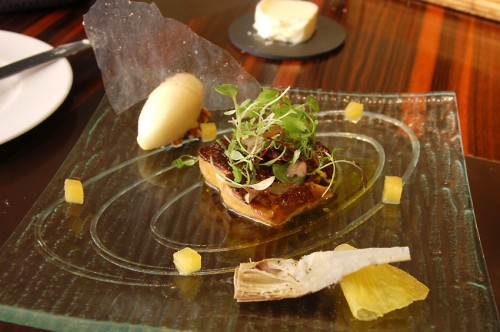 This is course number three.
Seared foie gras, baby artichokes with a delicate pineapple sorbet and a salad of wild leaves. Notice the glassy looking sheet sitting on the sorbet, that's peppered sugar. Oh yes, peppered sugar.
Are you ready for this?



Reeeee-mix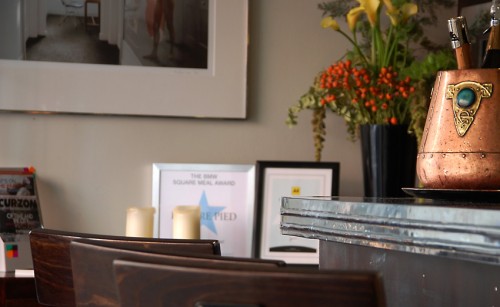 Lets rewind a little.
L'Autre Pied is the sister restaurant of Shane Osborn's Pied a Terre. Roughly translating to 'My other foot', L'Autre Pied is home to a certain Chef Marcus Eaves, winner of the Gordon Ramsay Scholar award and most recently bestowed Timeout London's Best new restaurant accolade. I have immense respect for the folks over at the Timeout, they've managed to provide very accurate reviews of the best places to eat in London, do check them out.
Without wanting to go into too much history, Its clear Chef Eaves has awesome skills and he's only 28.
Decor delight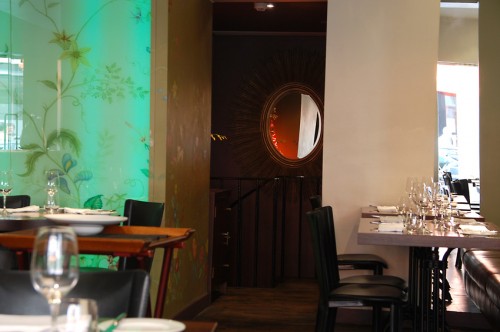 I showed up for a saturday lunch. It was very quiet at 12 but it was absolutely packed out by 2. The clientele: a mix of charming couples enjoying the golden years, some ranting fifty-five year old business-types with chic glasses and pretentiously posh young couples whom I can only assume ply their trade in the square mile.
I do digress.
You will notice the green walls and the warm woods. Cutlery and plates are all very sharp and the chillout music in the background gives L'Autre Pied a very chic and relaxing atmosphere. Its a very comforting dining space. Things were rather sobering at mid day, but I can really see this place oozing with soul come dinnertime.
Setting things up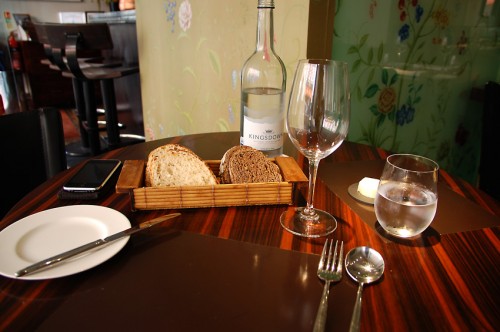 The menu is classy, comes bound in a hard leather cover. A choice of white and brown bread to start, I ordered a bottle of sparkling and just look at the table. That's just too sexy.
A quick glance at the a la carte and its nearly incomprehensible. Ingredients include soft poached hen eggs, shropshire game, haunch of venison and swiss chard. It's as though its written in another language altogether. Based on all this exoticism, things already look really interesting, albeit on paper.
And then I spot the seven course tasting menu for £54.75 pp.
Everything looks too good anyway and Chef Eaves had already impressed me even before I walked in the door. I leave my lunch in his very capable hands.
Course number one
Ready for this? Cool.
We open the seven course show with a jerusalem aritchoke veloute, served with glazed white beans and a lemon oil drizzle. I hold my hand ups, I had to google veloute, I had no idea what it was (that's how good Eaves is).
One of the five "mother sauces," velouté is a STOCK-based white sauce. It can be made from chicken or veal stock or fish FUMETthickened with white ROUX. (From epicurious)
It really is a mother of a sauce. The lemon oil immediately gave it a tangy edge. The veloute is a smooth texture and the taste is of a really good white mushroom soup, with abit of cream tipped in. It's creamy, but at the same time, it's so light. I noticed the temperature of the sauce was not too warm, almost room temperature. Extremely tasty and really opened up my appetite, I felt the floodgates opening. I also did something which just lifted the umami factor to infinity, I dipped the bread in.
Marcus, you have my attention.
Two is fishy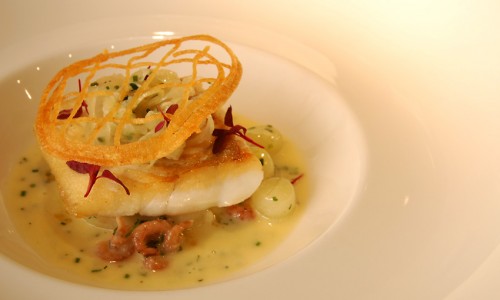 Up next is pan fried plaice, charlotte potatoes, a brown shrimp emulsion and shaved fennel salad. Just reading that is an interesting mix of ingredients. I mean, a brown shrimp emulsion? You know, I'm pretty over the top with words, but Marcus just lets rip. Bold and daring, I respect that.
The emulsion is almost brothy, taste of parsley and garlic. The potatoes are very nicely sauteed with a rich potato-ey taste (if that makes sense) and those baby shrimps are heavenly. Heavily salty, it helped colour the flavour of the fish. Wow, this is again so refreshing and builds upon the appetising-momentum set by the veloute.
Shifting focus to the crispily fried plaice, it's delicately crusty on the outside, cracking and popping with the aid of the crust cap resting on the fish and giving an interesting twist and texture to the smooth broth. But yes, it is very soft inside. Just a tad on the right side of cooked, I would have preferred it to be just a little undercooked, but Im not complaining. It's excellent.
The broth is reminiscent of a posh potato fish chowder which is delicately hearty and light but crispy to kind of wake u up and prep you for course three. Masterfully balanced and almost perfect.
Seared liver at three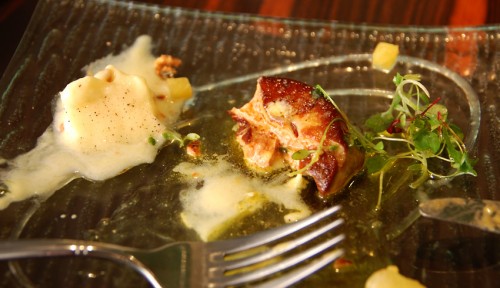 Nicely marinated, tasted almost like it was doused in soya sauce, and the texture is like the softest steak ever, but its that taste, the searedness comes straight through as it just sizzles in your mouth. I say sizzle, but its a cool-sizzle, because the chef rests everything so its the right temperature.
I still havent mentioned the sorbet yet. In itself, it is an interesting contrast, but one that works. The foie gras is a dominant flavour and the sorbet is delicately light, it is superbly whipped and full of bubbles, it's almost foamy (if that makes sense). It does not taste too sharp or creamy and just mellows out the taste of the foie gras. It's like fire and ice existing together at this unlikely meeting point, and then I cracked the peppered sugar over everything, and suddenly it added a spicy dynamic to the dish. Wow.
My thoughts when the food goes snail speed
After the excellent foie gras, food speed slowed to a trickle as the customers poured in. I'd like to take the moment to talk abit about the service. The staff speak with a cool french accent and I must point out their professionalism. Professional, but not snotty, the two waitresses who served me smiled warmly throughout service and were both very friendly. They made me feel right at home without being too intrusive. Nice.
Four is finally here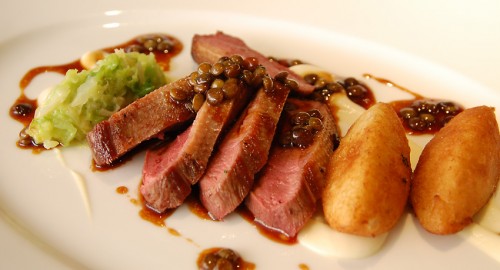 Mallardary. It finally arrives. Between no.3 and no.4, I think I waited about half an hour.
Four is roast breast of mallard, savoy cabbage on the side, with celeriac cream and a red wine sauce.
The duck is perfectly executed. Cooking is spot on ( would you expect any less from a Gordon Ramsay winner?) and the mallard is just on the right side of pink.
The cabbage really surprised me. It tasted as if it was marinated in some sort of creamy oil (perhaps it was brushed with the juices from the duck?), I couldnt quite place it but it was so rich, savoury and had this oven roasted smoke emanating from inside the greens. It tasted a good mouthful and was just really good cooking.
The surprise doesnt stop there. The potatoes tastes as though they were pureed and then seasoned with vanilla and soya sauce. It also had this very fragrant smokiness to it. I don't know what it was, but it was one of those moment where I just went 'Mmm'.
Mmm. Celeriac sauce and red wine sauce, round off the already rich flavour profile. The red wine sauce almost taste like chinese soya or savoury teriyaki sauce (less sweet) and that celeriac cream was foamy and helped to smooth out the grainy beans.
Ladies and gentlemen, this is a top class dish. It's so complicated, yet so simple; all the flavours are uncomplicated and easy to understand. They come together in sweet harmony and balance each other out very nicely. This is definitely 'high cooking' and you know what, I think I just found 'that' dish again.
Phew.
Cheesy fives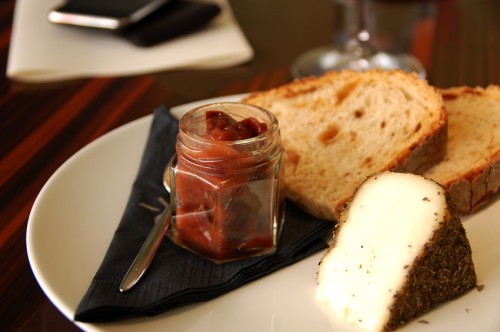 Number five is the cheese & chutney. A subtle touch, the bread is warm and toasty. I believe its some sort of plum chutney, slightly peppery edge, tastes of cinnamon and just decadently sweet. Not really sure what cheese it was, but its a kind of hard cheese, very mild flavours. Rather unexciting really, almost as if the chef is saying 'lets take a break' before we go again.
Crumble me six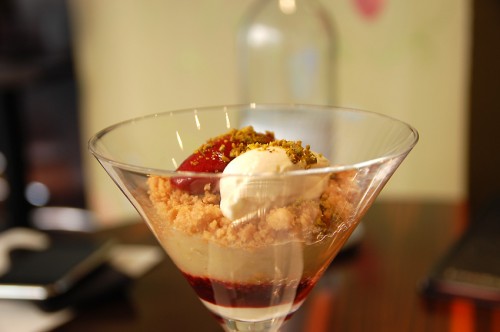 On the menu, six was aptly called 'pre-dessert', so I had no idea what to expect. I was half expecting dinky chocolates or a cup of coffee made from super rare beans or something. Oh boy, nothing prepared me for this.
This is an apple crumble, sitting on top are dollops of blackberry sorbet and a foamy 'cream' ice cream (if that makes any sense). Its abit of a trifle too as you can clearly see the blackberry jam layer nestling below the crumble and the apple compote layer. The temperatures come into play once again. The cool sorbets are light, full of air bubbles and are not too sweet. The crumble is as expected but the apple compote, oh wow, its warm, saucy and rich. The sharpness of the compote balanced well with the neutrality of the blackberry sorbet. Picking up all the layers, there is crunchiness, sweetness, tanginess, fruitiness and all of it enveloped in an ultra smooth blackberry and cream sorbet. This was so good. If this is just 'pre-dessert' I must be really in for a real treat.
A valrhona showdown at seven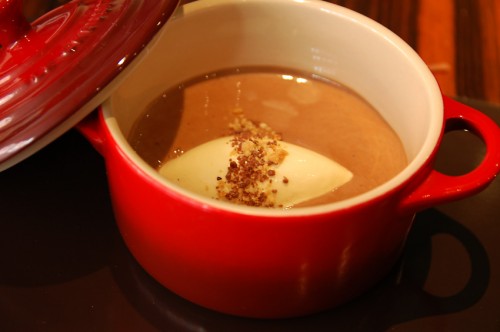 Seemingly an eternity since the first course. I really do feel as if I've been on a gastronomical adventure.
At last, the seventh course. It is warm custard of valrhona chocolate, marinated pineapple and passion-fruit. Starting with the whipped chocolate foam, is again light and airy. It is served warm, almost like a super rich hot chocolate. Ok, here's where it gets interesting. The white bit in the middle, is what I can only assume a pineapple and passion-fruit sorbet, so its cold. In the centre of it though are ice cold pieces of the fruits. Shoving a spoonful of this produced a sensation I've never really had before and I can only describe it as a temperature profile. The iciness numbed the sharpness of the fruits while the warmth brought out all the fleshy richness of the chocolate. What a stunning way to bring down the curtains.
Afterthoughts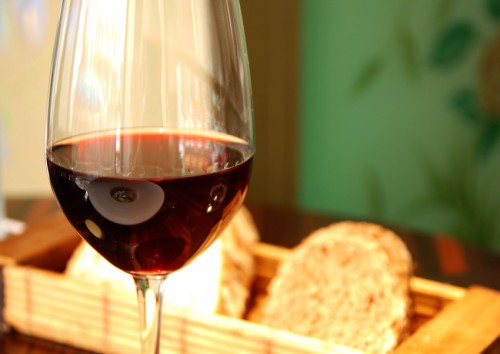 I should also mention that the excellent looking winelist looks affordable. I did plonk for a glass of aussie pinot. Silky smooth light cream, light tannins, perfumed vanillas and it could be easily mistaken for a really good cote de nuit. Stunning at just £6 per glass.
Alright, I really deconstructed the seven courses because I think food here is just lovely. I mean, just look at the body of work. It's creative and there are so many twists and turns that kept me smiling with every bite. I was quite literally blown away. I think it thoroughly deserves it's spot as timeout's best new restaurant and the proof is not just in the pudding, it's in the cooking.
Chef Eaves, I tip my eating hat to you, you are a rising star and I am fan.
In times of intense credit struggle, the price maybe a little off putting, but then again, think about it, seven superbly cooked dishes for 55 quid, that works out to about eight quid per dish and I was pretty stuffed by the end of it. In my view, for the quality of food, it is not over-priced at all. I will be very surprised if he doesn't win a couple of Michelin's in the years to come, for everybody else, this is a great place for that special dinner. High cooking at its highest.
Basics

L'Autre Pied 5-7 Blandford Street W1U 3DB | 020 7486 9696 How to get there: Bond Street tube station How much: OK, £8 – £13 Starter | £17 – £20 Mains | £8 Puddings
http://www.lautrepied.co.uk/